Building A Sustainable World – The Role Business Families Can Play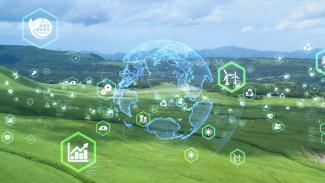 Sustainability and environmental, social and governance (ESG) are not new in the commercial world. These initiatives may have been motivated by profit seeking objectives in the past, however both the Covid pandemic and the climate crisis have triggered companies to take a serious look at ESG investing today. Sustainability has become the new cornerstone of the next era of our human civilisation, way of life and business.
Amidst the heightened alert of climate change and responsible citizenship, companies are now held accountable for their management of resources, environment and social justice. There is an urgent call for family businesses as custodians of resources to advance the sustainability agenda by adopting a responsible approach to ESG issues in their long-term mindset, family values, steward leadership and investment portfolios.
To drive this conversation, Singapore Management University's Business Families Institute (BFI@SMU) organised a virtual Conference, "Building a Sustainable World – The Role Business Families Can Play" on 16 September 2021 in partnership with Knowledge Partner, Federated Hermes, which set up the world's first SDG (sustainable development goals) Engagement Fund.
Associate Professor of Organisational Behaviour & Human Resources, SMU Lee Kong Chian School of Business and Chair, Steering Committee, Business Families Institute, Tan Hwee Hoon in her opening address said, "We believe that when times are tough, family businesses' commitment to values, long-term thinking and sensible leverage are even more crucial for society. This critical value to society not only applies to investments, but to every aspect of business.…. We need to grow a community that believes in building a sustainable world, hence our involvement with all of you today."
In his keynote speech for the first panel session, Professor Emeritus, Singapore Management University and Chairman, Stewardship Asia Centre, Arnoud De Meyer defined Profit with Purpose, and how stewardship values make it possible for family businesses to achieve this, especially with its natural characteristics. He highlighted the importance of four key values of stewardship that provides an actionable guide for family businesses to embrace sustainability and ESG. In essence, family businesses need to recognise the interdependencies of the family business and society, and want to make the world a better place. He said, "It is this desire to create a future beyond self that the business will do well financially, but will also be proud of the legacy that is left for our children – to live the world a better place than we found it, that will keep the business going."
The first panel was moderated by Interim Academic Director, Business Families Institute, V3 Group Fellow in Family Entrepreneurship, Assistant Professor of Strategic Management, SMU Lee Kong Chian School of Business, Kenneth Goh and included distinguished panellists, Mr Ankesh Shahra of Agrimax Ventures, Ms Cynthia Handriani Wijaya of Daya Selaras Group, Mr John Cheng of Innovate 360 and Ms Louise Dudley of Federated Hermes.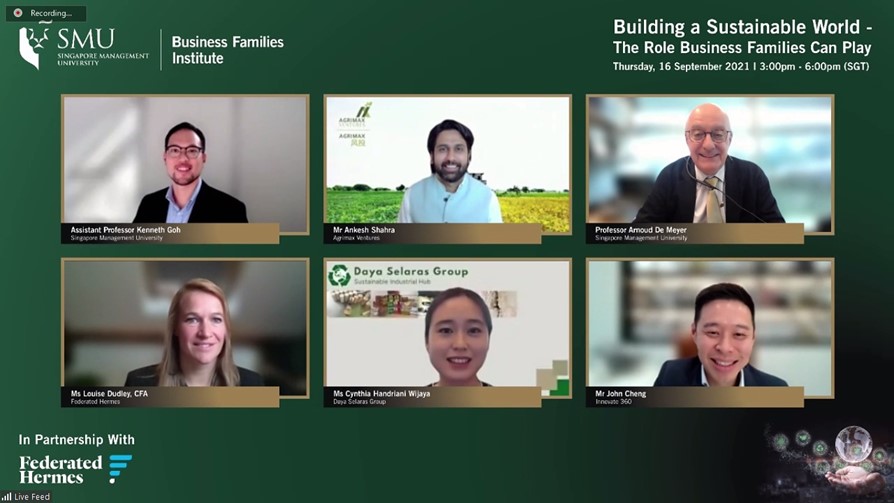 The panellists shared that even before the coinage of the ESG label, a stewardship mindset within their families meant that sustainability was implicit in their values. These values manifest in business practices such as ethical sourcing, industrial symbiosis, paying fair wages to vulnerable communities, and lowering their carbon footprint by reducing waste or switching to renewable energy sources. The panellists also shared examples of how they leveraged on their family business to establish new ventures that intentionally addressed sustainability goals as a path for continuing the family legacy.
In the second part of the conference, the emphasis on sustainability in how family businesses invest was explored – not only as an investment theme but as the purpose for how capital is deployed. The second keynote speaker, Mr Saker Nusseibeh, CBE, Chief Executive Officer, International, Federated Hermes shared how he connected developments, trends, ESG issues with investments and emphasised the need to collaborate, partner and engage the board of governance to lead to better financial investments that influence the world, the environment and biodiversity. In the words of Mr Nusseibeh, "We need to invest today for a better tomorrow, or the digital age will go the way of the Bronze Age".
So how can business families unleash this potential, and how can investors make this change? Professor Emeritus of Finance (Practice) and Senior Academic Advisor, Business Families Institute, Singapore Management University, Annie Koh moderated the second panel consisting of Mr Darren Teo, Ms Elaine Teo of Apricot Capital, Mr Jansen Phee of UBS, Mr Mitch Reznick of Federated Hermes, Mrs Reshma Lalvani Sujan and Mr Ronil Sujan of Raaga Holdings.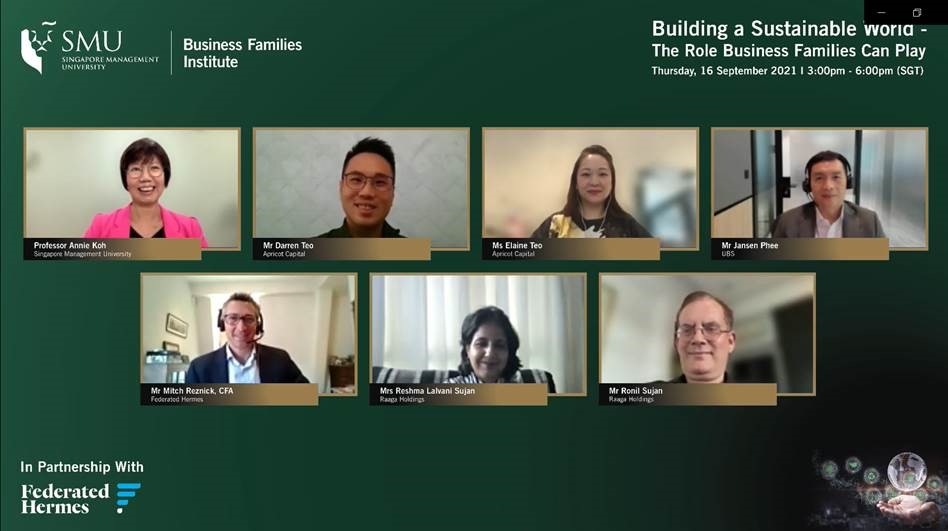 The panel discussed how the investment community has taken on a value-based approach to engage in sustainable wealth creation, achieving triple bottom lines to do well in profits, and do good for society and the environment. Beyond providing options for exclusionary investing on ESG metrics, companies need to take a more active approach through partnerships to improve ESG performance.
Investing with purpose and values has become the new norm. Areas of sustainable and impact investments include greenspace, the future of food, healthcare, financial inclusion and education. Family business investors are encouraged to identify the areas which they feel are the largest pain points, and to put their wealth into generating the most productive social and environmental benefits.
Gone are the days of guilt trips, investors today look to aligning investments with value and its impact, in precedence over risk and return.
Assistant Professor Kenneth Goh in his closing remarks said, "We hope the Conference has given everyone deeper insights into how businesses, business families, and the investment community can take action today to solve the existential challenges of tomorrow".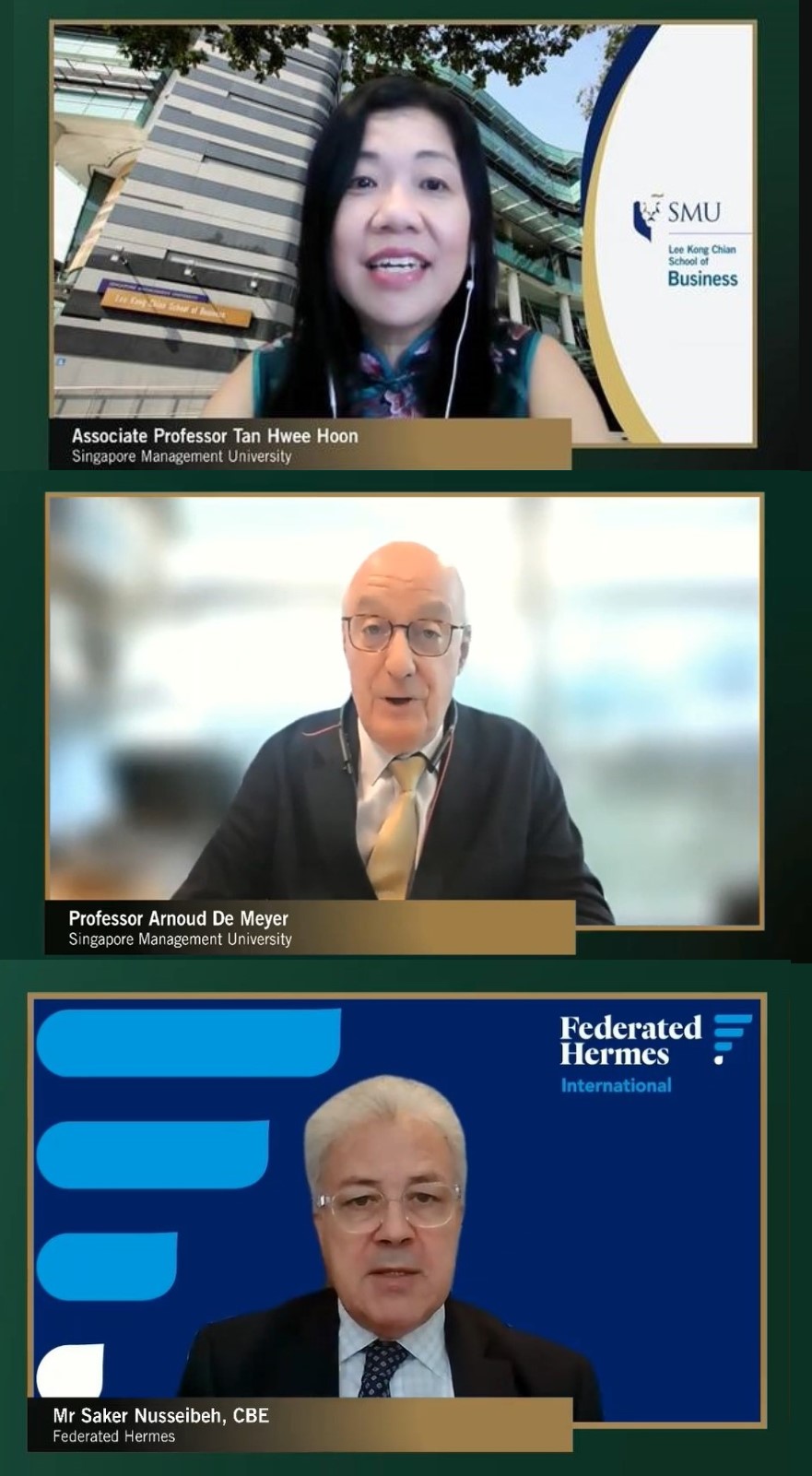 For recordings of the conference, please click on the below links: