Exploring Eastern and Western Philosophies of Giving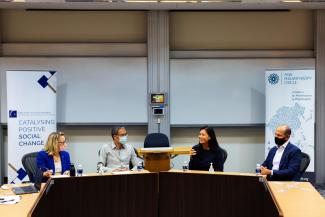 As part of an ongoing series featuring conversations with social innovators and changemakers, the Lien Centre for Social Innovation (LCSI) at the Singapore Management University, with the Asia Philanthropy Circle, hosted a virtual fireside chat themed, "Giving and Receiving: Exploring Eastern and Western Philosophies of Giving". Streamed virtually on 26 February 2021, the session was attended by more than 100 guests comprising members of the academic community, students, alumni and the public.
Expanding on the key findings of the "Giving and Receiving: A Study of Barriers and Enablers in Asian Philanthropy" report published by LCSI in November 2020, the fireside chat gave the audience the opportunity to hear from panellists with deep experience in the giving space. It was also organised in line with the SMU2025 priority of "Growth in Asia", where the University seeks to contribute to the region's growth and manage the ensuing impacts. Panellists at the fireside chat included Laurence Lien, Co-Founder & CEO of Asia Philanthropy Circle; Susan Sy, Executive Director, Client Services & Philanthropy Services, UBS AG; and Pierre Lorinet, Chairman of Lorinet Foundation.
Ms Christy Davis, Executive Director, LCSI opened the session with welcome remarks: "This session aims to explore the similarities and differences between how East and West philanthropic entities approach giving, as well as their drivers, philosophies, and principles." She also introduced LCSI's "Giving and Receiving" report, which focused on the countries of India, Indonesia and China and was first-of-its-kind in providing an analysis on the Asian and regional perspectives towards philanthropy.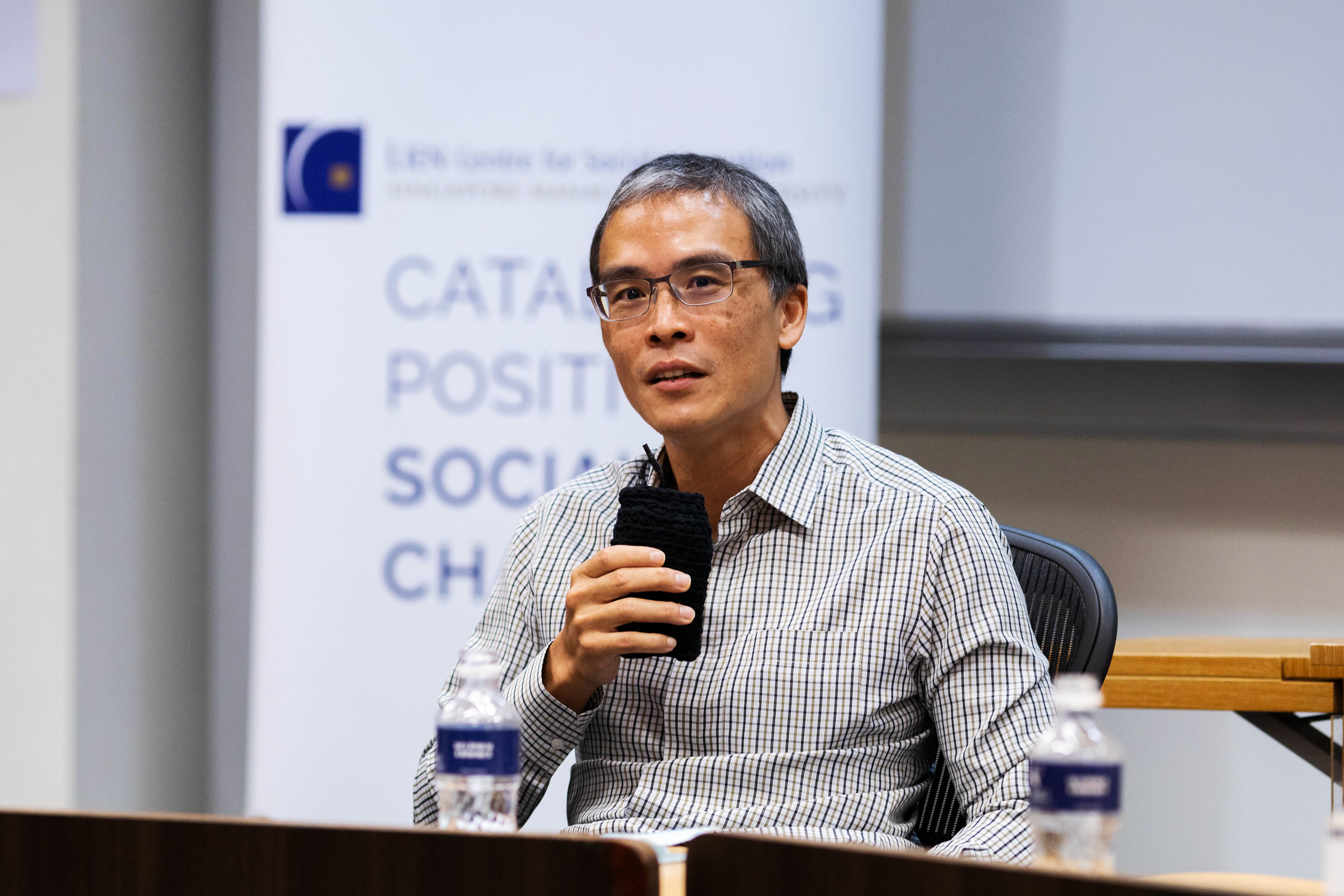 Laurence, who is also the Chairman of Lien Foundation, a family foundation established in 1980, was the CEO of the National Volunteer & Philanthropy Centre in Singapore from 2008-2014. In 2008, he founded the Community Foundation of Singapore and was its Chairman from 2013-2019.  Prior to his work in the non-profit sector, Laurence served in the Singapore Administrative Service, which forms the top echelon of public service leaders in Singapore. 
Having been in the Foundation space since 2002 when he was "conscripted" into the family foundation, and having been immersed in the non-profit sector from 2008, Laurence shared that even as a child, he had been bothered by the inequality in the world. "It bothers me even more now as an adult, because it has grown," he said.   
Susan elaborated on the influence of her mother and the volunteering experience during her youth, which eventually steered her towards a professional career in the area of philanthropy. In the context of her current role as a professional in the wealth management industry, she shared on her approach towards philanthropy: "How could we involve corporates and harness the power of businesses to employ philanthropy? How might we use this ability to help families who want to ensure their multi-generational family members get involved in giving? We can use our very strategic view of their giving and a systematic approach to making sure that their giving is making a long term impact, in tackling social issues."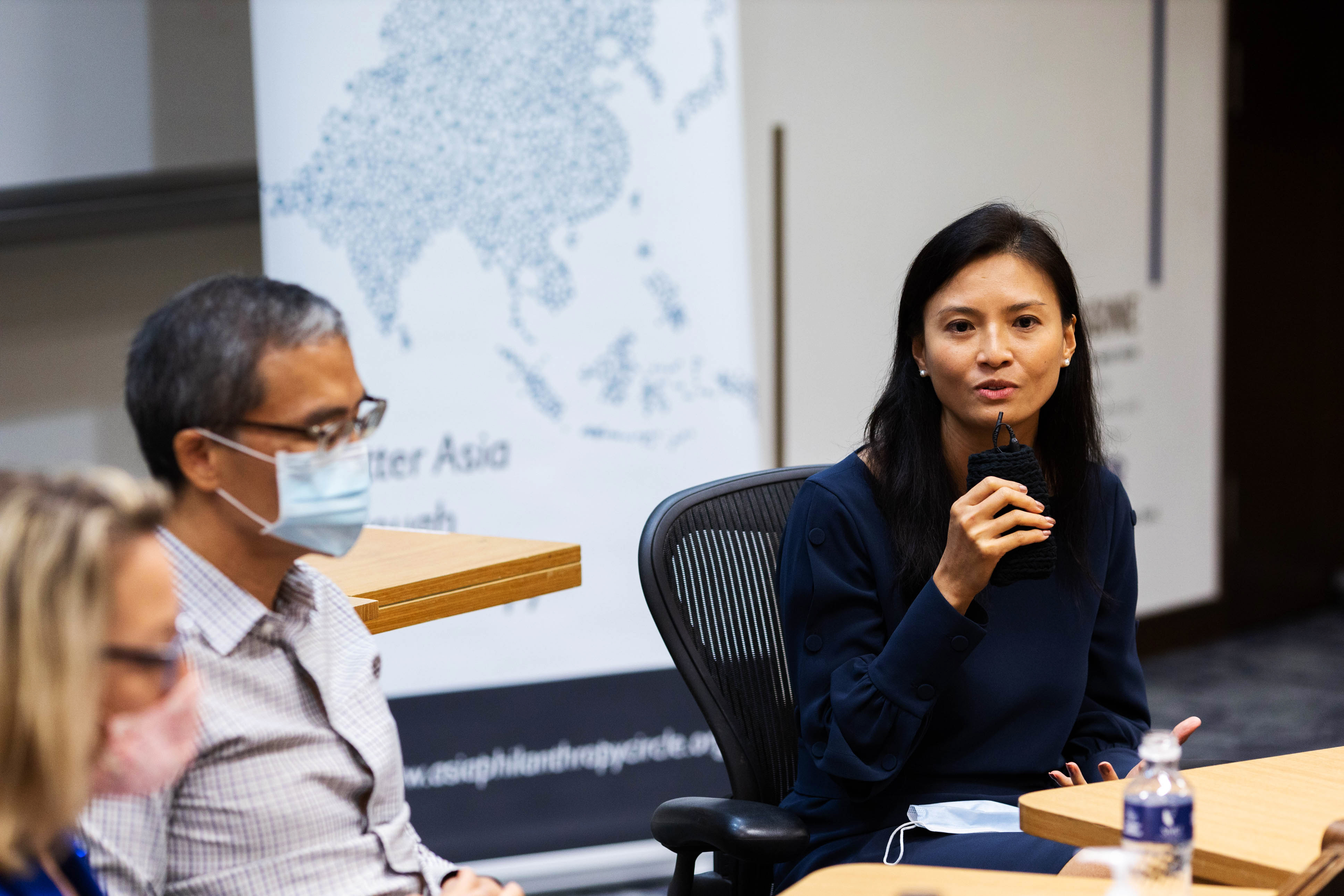 Pierre shared that he took a step back from his professional career in late 2015. He and his wife, who is from Mongolia, embarked on their giving journey when they were inspired to do something to give back to Mongolia, with the family foundation that they set up stemming from that motivation.
"I guess we've been pretty fortunate, all of us here, with careers and families…you have to recognise when that happens that luck plays a big part in this. Luck, interestingly, compounds. Just for a start for example, luck determines where you are born, the obstacles and opportunities you are going to have. To me, philanthropy is a way to try to level the playing field, to help others to achieve their goals or potential," commented Pierre.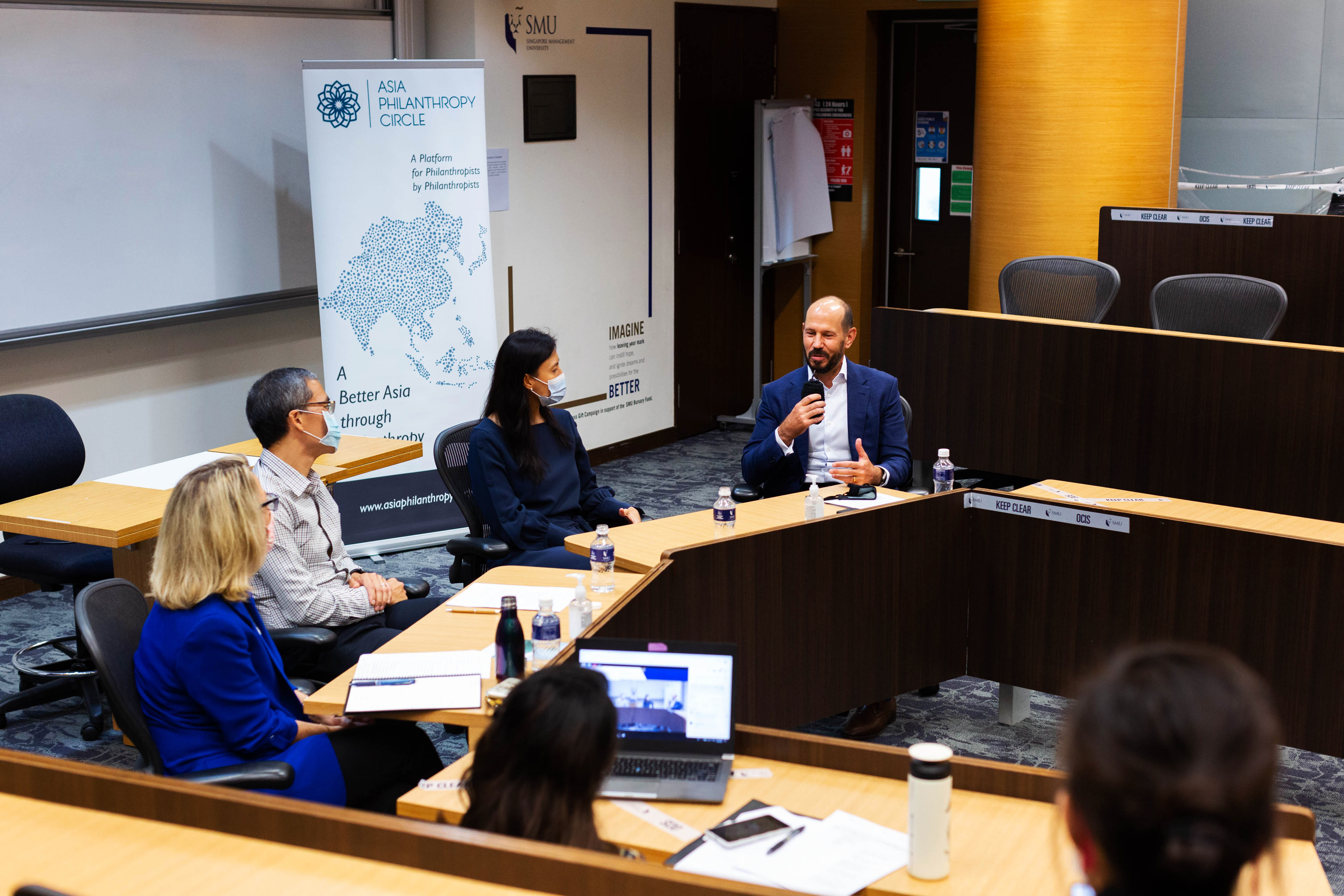 The panellists were in consensus that there are indeed large differences between countries in Asia and countries in the west regarding the approach towards philanthropy. For example, the face of American philanthropy would look very different from French philanthropy. This stemmed from cultural norms, community bonds and the ways in which each government tackle complex social issues. Asia in itself comprises a large number of highly diverse countries at different pace of development. Given the more established standards of governance and transparency that non-profit organisations in western countries observe, non-profits based in Asia could look towards those examples and emulate their best practices.
Secondly, family foundations in Asia are largely run by first generation philanthropists. In contrast, family foundations in western countries, such as the Rockefellers, being multigenerational, have been involved in professionalising and institutionalising long term giving. Beyond grant giving, these families are well-versed in values-based philanthropy and been looking into how they might be able to make a larger and long term impact. This development would be something that families in Asia would likely be driving towards with their next generation members.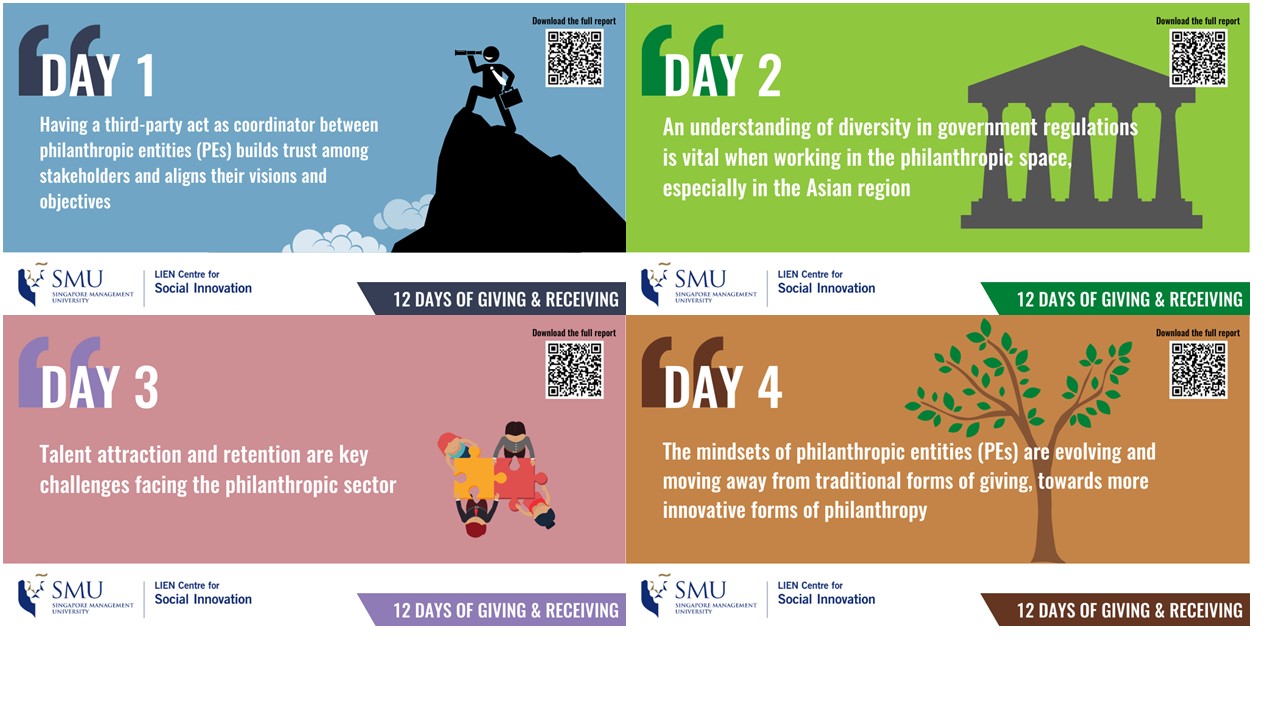 "The next generation is quite different. They care more about global issues, such as climate change… this urgency for change is much stronger now when you look at the pandemic. We are going to get more zoonotic diseases in future if we don't deal with climate change. It's a lot more interconnected. Older family members may be driven more by affiliation, whereas the newer generation of philanthropists want results, real outcomes and ultimately impact," commented Laurence.
Globally, there had indeed been a mindset shift away from traditional modes of giving into more innovative modes. This included impact investing and values-based, collaborative approaches that create a longer term multiplier effect. Pierre spoke on the differences between traditional and progressive philanthropy. Besides output and outcomes, his team at the Lorinet Foundation would consider evidence-based approaches that determine how they could measure the impact on the ground each time they worked with an organisation. These innovative approaches helped the foundation to secure more capital into philanthropy. Elaborating on the social impact bond that Pierre had highlighted, Susan underscored how philanthropy is very much about taking risks and piloting innovative models of intervention, while ensuring transparency in measuring outcomes from giving.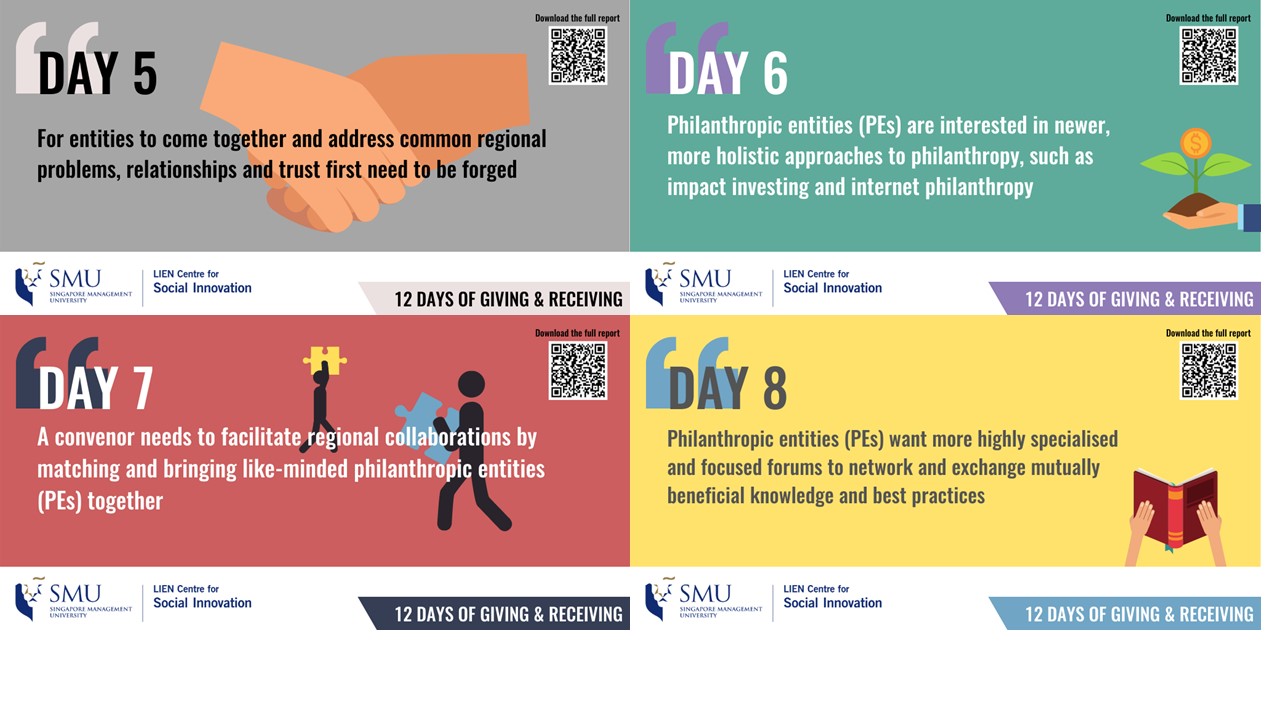 The panellists underscored the need for collaboration, building capacity, advocacy and attracting talent and expertise into the non-profit sector in order to make a sustainable impact.
"There are no easy solutions to the [philanthropic] sector, which is currently under-developed. It is not just about grant-making. It's about professionalising the sector, building up capacity and the ecosystem," Laurence commented. "We need to collaborate to do that. Philanthropic capital is miniscule compared to government budget, therefore we should not rely on philanthropic capital alone for sustainable impact."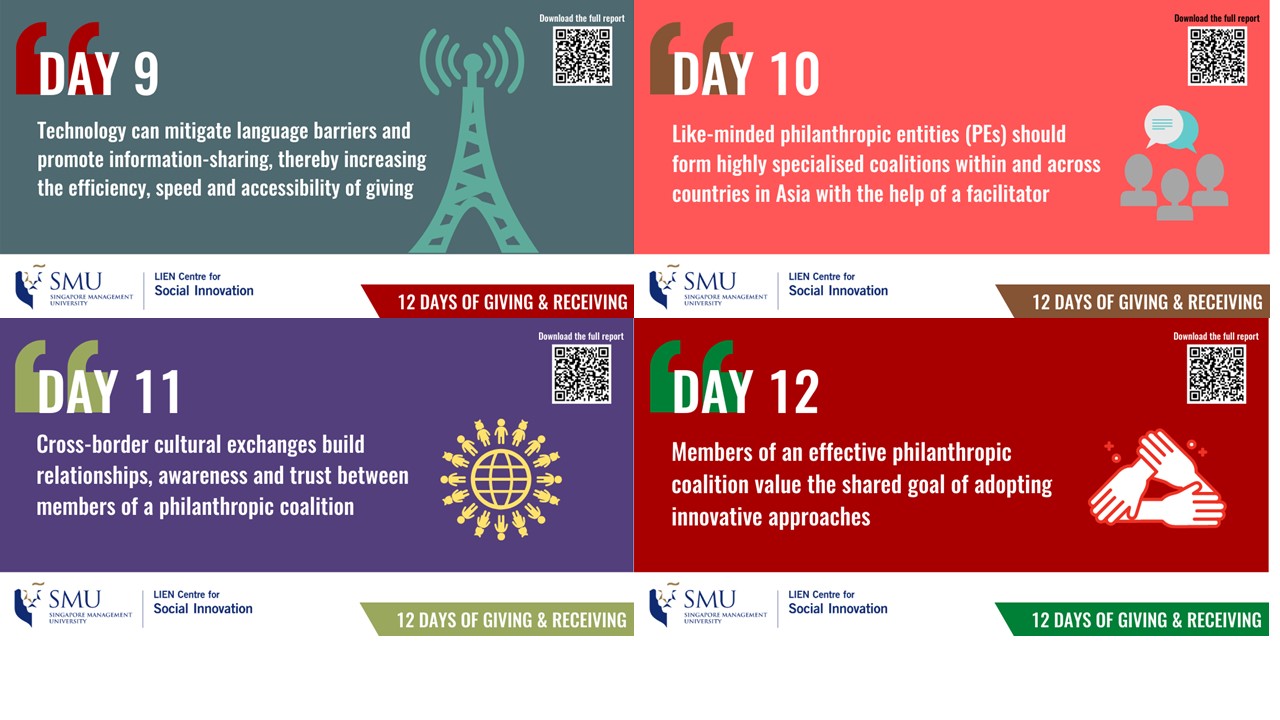 Agreeing on the importance of collaboration to create economies of scale, Pierre said: "There are pros and cons to partnerships and collaboration, where small organisations working on their own might be able to make decisions quickly and to move nimbly. Collaboration and partnerships require a lot more building consensus, but that process also makes it a lot more robust because you have really tested it on different people with different perspectives from other arenas."
"Also, you can scale. On your own, you have limited power. Even Bill Gates has limited capacity at some point, even if it doesn't seem so," continued Pierre. "If we're on our own, we can't bring the project beyond a certain stage. That's where the partnership comes in, where you ensure that you have a path to scale it, be it working with government or policy." 
"Collaboration also means learning, allowing us to be able to excel even further from what we are doing, in terms of sustainability and scale," said Susan. "Through partnerships, we can learn from each other, be able to see the problems and pitfalls, as well as the next steps that we need to take. This is an important component of philanthropy…understanding the approach through multiple years, for us to really look at the scale and the impact that we would like to achieve."
For more insights from the speakers, tune in to the livestream discussion here.
Stay tuned for the next instalment of our Giving and Receiving Programme Series, taking place on 31 March 2021. RSVP here.