SMU School of Social Sciences Psychology Students bag five research awards including Best Research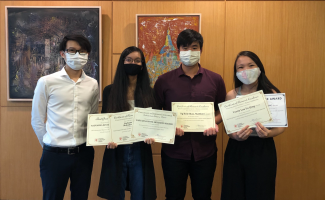 Singapore Management University (SMU) School of Social Sciences (SOSS)' students have won five Student Research Awards by the Singapore Psychological Society (SPS). They are Nadyanna Binte Mohamed Majeed (Year 4), Ng Hok Shan, Matthew (Year 4) and Verity Lua Yu Qing (Year 3).
The Student Research Awards is an annual initiative of the SPS to acknowledge budding researchers and to celebrate outstanding research done in Singapore, and of relevance to the Singapore community. The submission is open to all tertiary academic institutions in Singapore across all domains of psychology and awards are given to the top research in the diploma, undergraduate, and postgraduate categories each.
Due to the COVID-19 pandemic, this year's Student Research Awards 2020 was held online on 31 October 2020. Students whose manuscripts had been shortlisted were invited to present their research at the event. 
SMU had submitted two undergraduate research projects and they clinched first and second places respectively out of about 30 submissions this year. SMU's win surprised many as we were previously underrepresented at previous local research awards at the undergraduate level. In addition, SMU won awards for Best Quantitative Research Paper and the Audience Choice Award, both from the open category, where our students were compared against diploma, Master, and PhD students in addition to other undergraduates from other local universities.
SMU took the honours with these five awards:
Winner of Best Research for Undergraduate Category (Dyslexia and creativity: A meta-analysis) - Nadyanna
Winner of Best Quantitative Research Paper (Dyslexia and creativity: A meta-analysis)  - Nadyanna
1st Runner-up of Best Research for Undergraduate Category (Musical Experience and Executive Functions: A Latent Variable Approach) - Verity, Nadyanna, and Matthew
Runner-up of Best Quantitative Research Paper (Musical Experience and Executive Functions: A Latent Variable Approach) - Verity, Nadyanna, and Matthew
Winner of Audience Choice Award (Musical Experience and Executive Functions: A Latent Variable Approach) - Verity, Nadyanna, and Matthew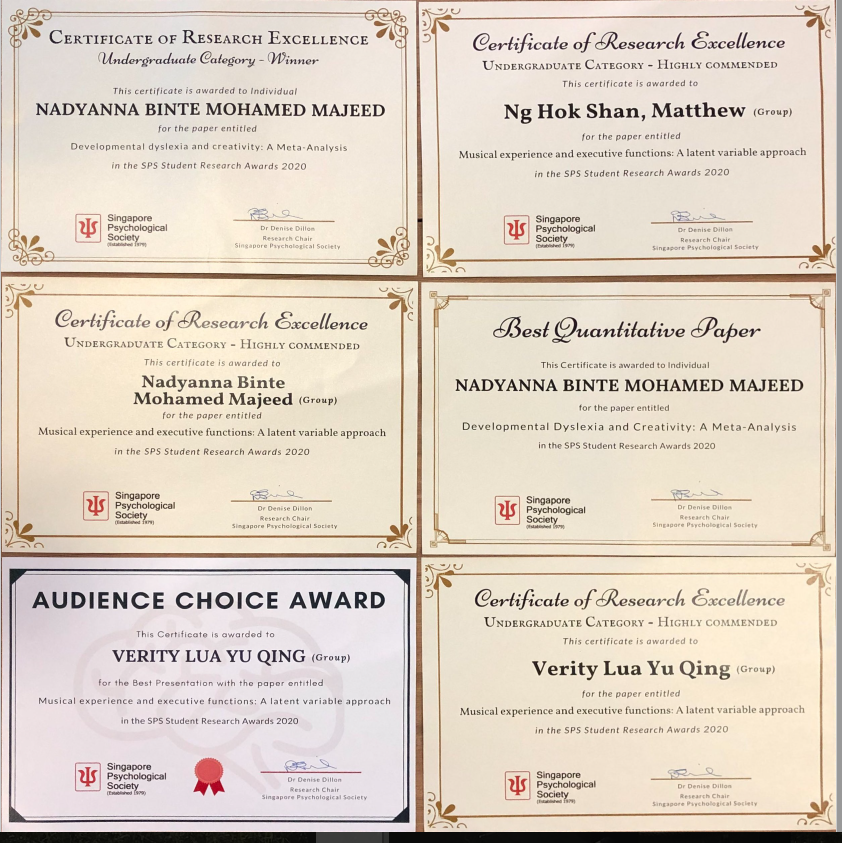 Brief Description of Awarded Paper: "Dyslexia and creativity: A meta-analysis"
This research aimed to examine if people clinically diagnosed with dyslexia, despite their difficulties in reading in writing, may display higher levels of creativity. Fourteen studies that assessed the creativity of 397 individuals with clinically-diagnosed dyslexia and 453 controls were reviewed and aggregated. Random-effects meta-analysis revealed an overall non-significant difference in creativity scores between those with dyslexia and controls, even after taking into account other factors such as whether the creativity assessment was conducted verbally or non-verbally. Nonetheless, individuals with dyslexia significantly outperformed controls in creativity scores in adult samples, but not in youth samples. Overall, the current findings provide limited support for the idea that individuals with dyslexia are more creative, and that past evidence of this relationship may be limited to adult samples.
Brief Description of Awarded Paper: "Musical Experience and Executive Functions: A Latent Variable Approach"
"Musical Experience and Executive Functions: A Latent Variable Approach" investigated the relationship between musical experience and executive functions. 175 young adults completed a battery of nine executive functioning tasks, from which, the latent variables of inhibitory control, task-switching, and working memory capacity were estimated. Results revealed no evidence of any relationship between musical experience and latent factors of executive functions in both frequentist and Bayesian structural equation models. The findings provide important practical and pedagogical implications in questioning the use of music lessons as an effective way to improve cognitive abilities.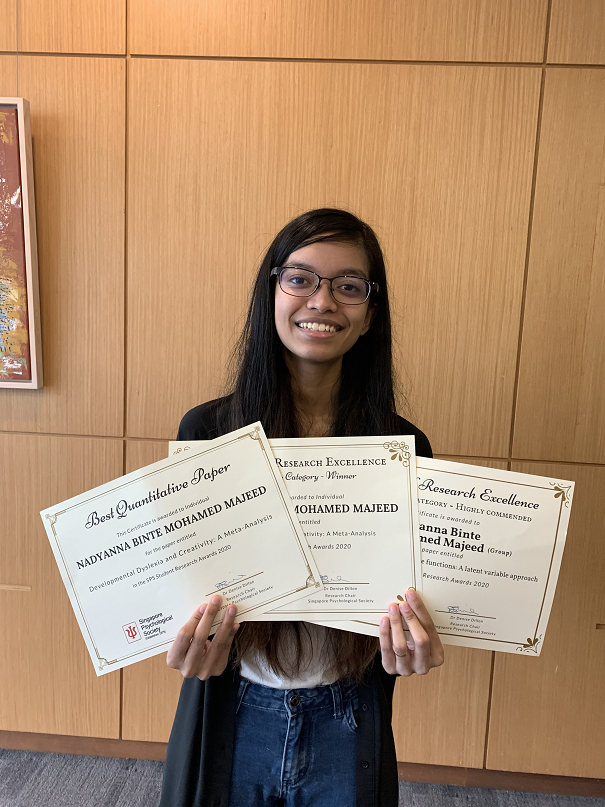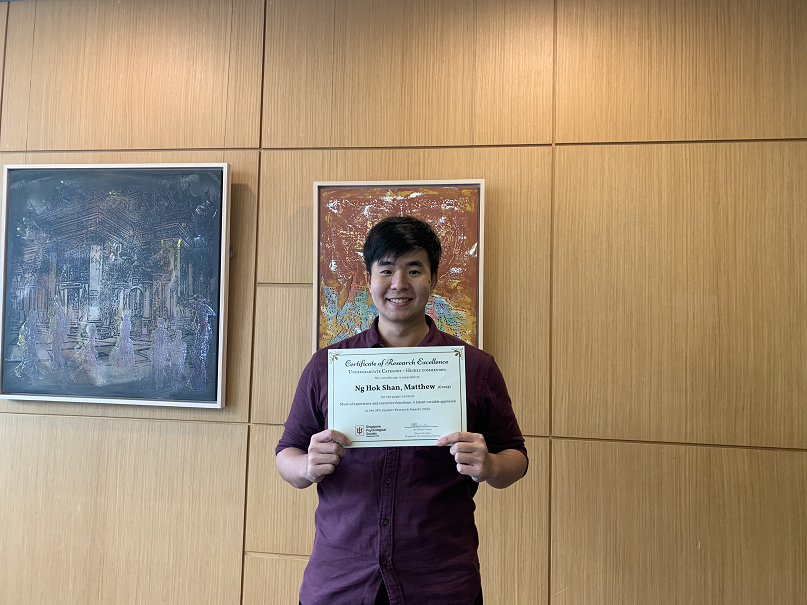 According to Matthew, "It was not easy to produce a competitive submission especially during the pandemic, in time for the Student Research Awards. We experienced many hurdles ensuring everyone is on the same page despite not being able to meet face to face."
As for Nadyanna, "A big challenge for me was the time pressure. I believe most of the other submissions were senior theses submitted by people who had completed their undergraduate education in the previous academic year (i.e. by April). On the other hand, the submission by my group as well as my individual submission were prepared as part of our independent projects with a much shorter timeframe, especially the group submission which we only started in May. We definitely couldn't have done this without the guidance and advice of our supervisors Prof Andree and Prof Jacinth Tan, who took the time to listen to our presentations and gave us lots of helpful feedback."
Despite the challenges faced by the team, adjudicators praised the award winners from SMU for their advanced quantitative and statistical knowledge that demonstrated knowledge surpassing most of the research done at the undergraduate level.
Commenting on their achievements, Assistant Prof of Psychology (Education) Andree Hartanto said, "Nadyanna, Verity, and Matthew are very talented and hardworking students. I am constantly amazed by their passion in research and the quality of their work. They conducted advanced and sophisticated statistical analyses, such as random-effects meta-analysis, frequentist structural equation modelling and Bayesian structural equation modelling, and applied these statistical techniques to their research questions very well. Even though they are still undergraduates, they wrote high-quality manuscripts that can be submitted for research journal publication. More importantly, their research has important theoretical and practical implications for us to understand the association between developmental dyslexia and creativity as well as the use of music for cognitive enhancement. I am very impressed and proud of them. I am glad that our undergraduate programme in SOSS has produced very strong undergraduate researchers like Nadyanna, Verity and Matthew who are technically competent, resilient, and able to make meaningful impact through their research."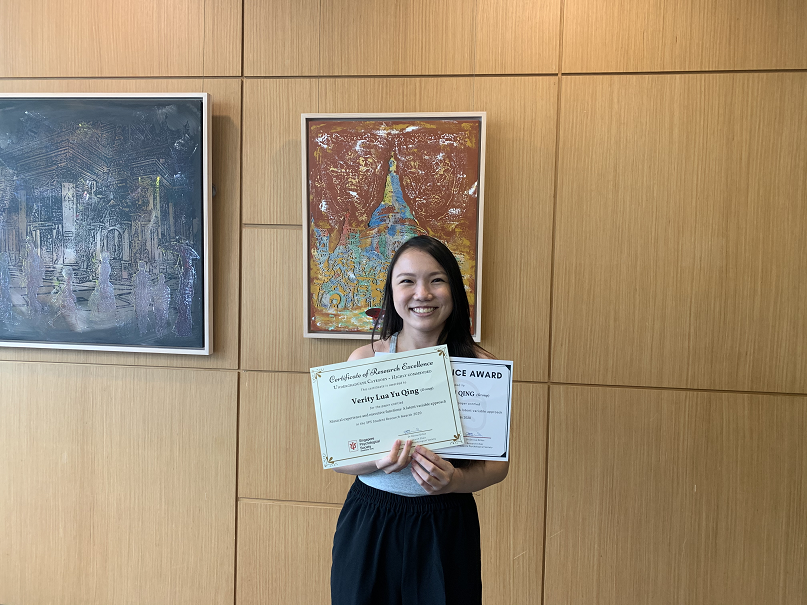 Said Verity, "As an aspiring researcher, this was a humbling experience to say the least. I am grateful for the support I received from the school in giving me the opportunity to embark on this independent project as a year three student. I am also thankful for the constant guidance and encouragement the psychology faculty members and my peers from Prof Andree's DawnLab have given me throughout the whole process. I have truly learnt a lot and these achievements have definitely fuelled my passion for research and given me the confidence to continue pursuing this passion. The process of creating a work for this award has deepened my understanding about psychological research. I had to ensure my understanding about the statistical methods we used was completely accurate and adapt a more scientific and academic way of writing. Having to present our research to people from all walks of life also taught me how to make academic research accessible to everyone including lay people. Undoubtedly, the whole experience was an enriching one and one that I am grateful to have experienced."
The trio are also very grateful to their fellow undergrads at DawnLab, who have supported them in various ways such as helping out as research assistants, listening to their presentations and giving them feedback, and attending the Student Research Awards 2020 to provide moral support. "We are super happy and grateful to be part of such a warm and collaborative lab which allows us to pursue our research interests and provides great support."
Congratulations SOSS and Nadyanna, Matthew and Verity, on achieving these Research Awards.