Doing Good and Setting a Singapore Record – SMOO Challenge 2020
A new way of giving back to the community through a virtual challenge

In light of the COVID-19 pandemic this year, numerous on-campus activities had to be put on hold or cancelled entirely. However, one of SMU's key campus-wide community service projects went ahead virtually.
From teaching beneficiaries from Mountbatten Vocational School (MVS) how to write a resume to making mini terrariums and Tamiya cars with them, the student organising committee took their Purple Outings online and was able to spark joy in the students amidst these trying times.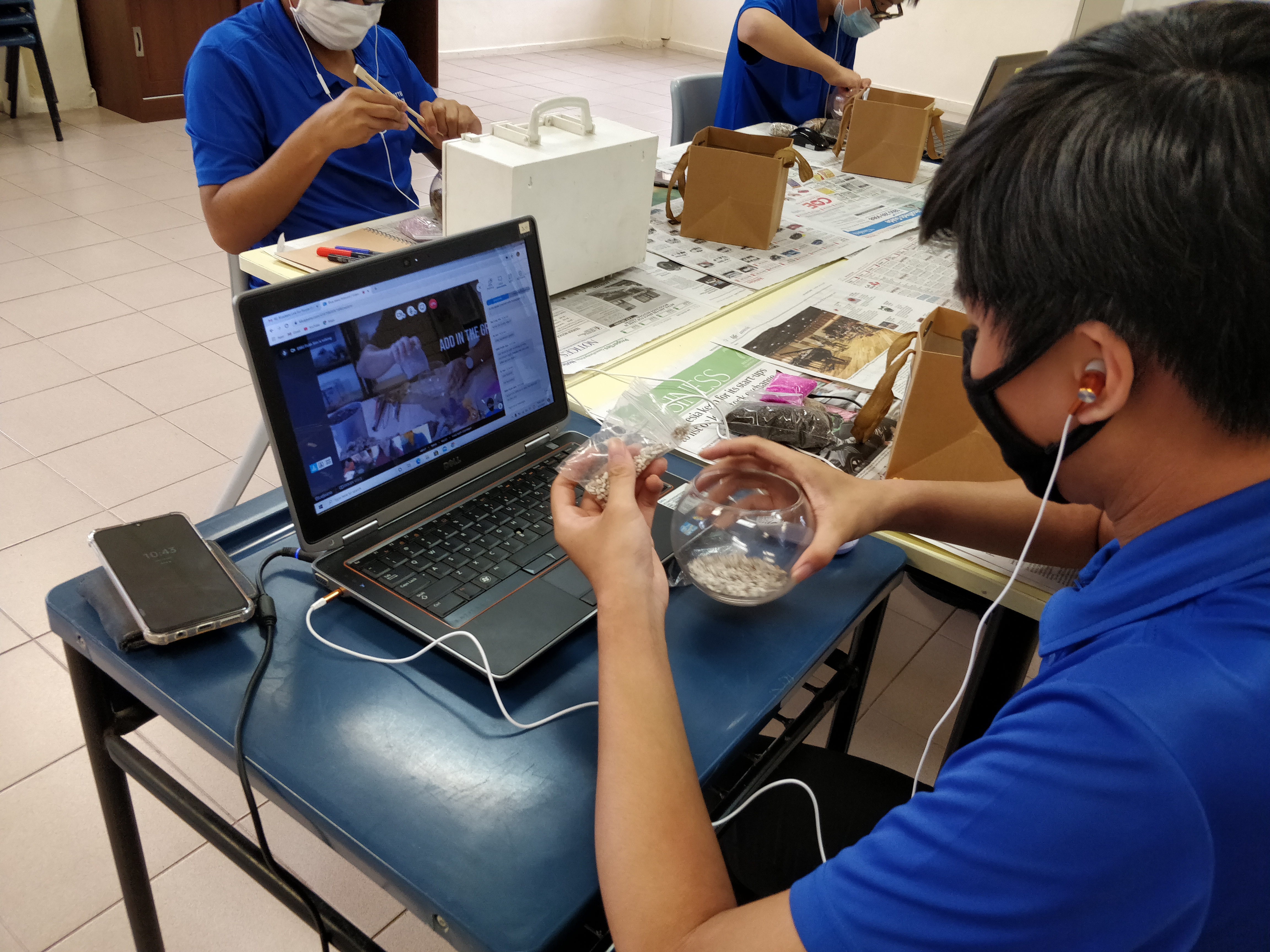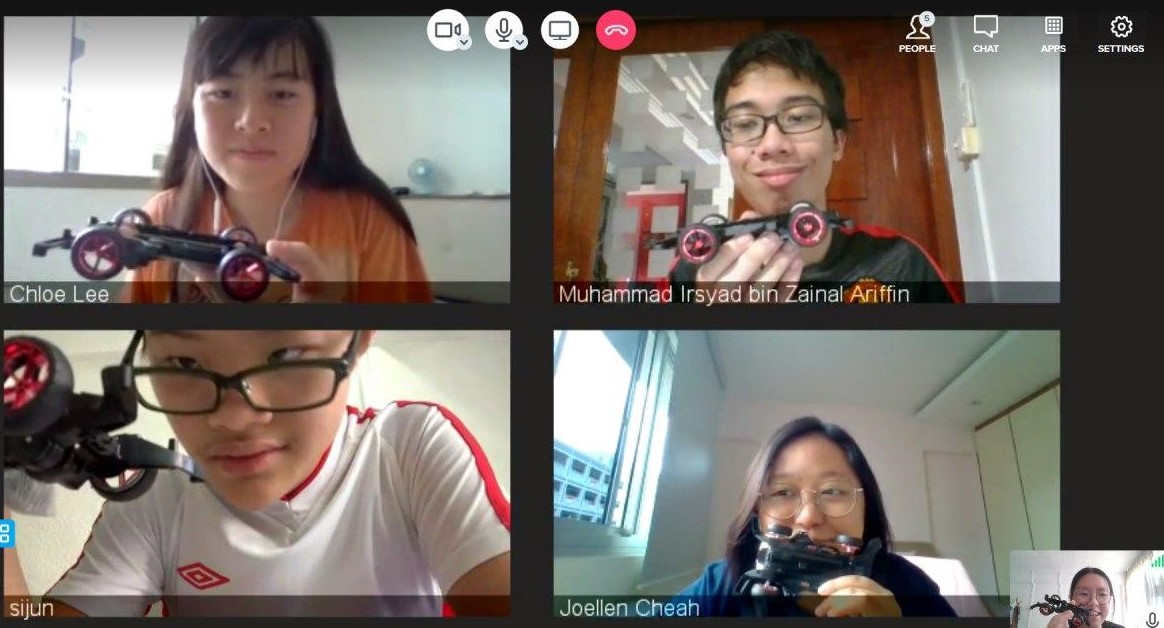 To commemorate SMU's 20th anniversary, the SMU Challenge student organising committee, under the guidance of the Office of Student Life and Office of Advancement, rebranded SMU's signature annual charity event into SMOO Challenge 2020, a virtual challenge aimed at galvanizing the community, boosting physical and mental wellness, as well as raising funds for financially challenged SMU students.
What made SMOO Challenge 2020 unique was the fact that these participants had the freedom to represent their respective constituencies and form their own groups to clock distances together. However, whether one joined as an individual or as a group, it was clear that everyone's goal was singular – everyone wanted to contribute to a greater cause.

From the 1 to 20 September, a total of 1,218 students, staff, alumni, faculty members and even members of the public across 16 countries united together and clocked 57,346.35km in 20 days, far surpassing our initial goal of 20,000km. With this incredible achievement, we have officially set a new record for the 'Longest Distance Covered Online by Runners in 20 Days' in the Singapore Book of Records, making SMU's 20th Anniversary a meaningful and memorable one.
Equally noteworthy was raising over $330,000 to support financially challenged students via the SMU Bursary Fund, going beyond the initial target of $240,000.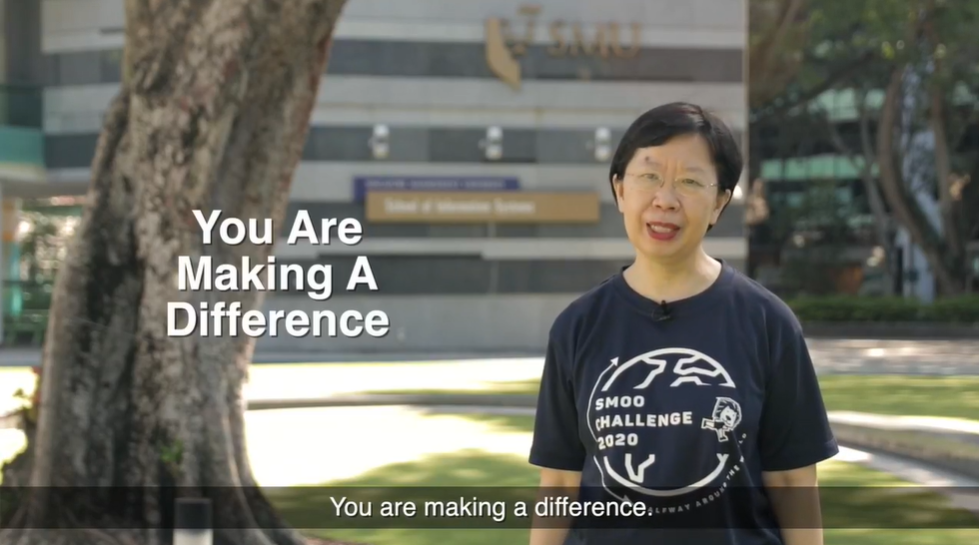 SMOO Challenge commenced with an exhilarating virtual launch on 1 September with SMU President Lily Kong officiating the start of the challenge and pledging to clock 100 kilometres in support of the SMU Bursary Fund. Thereafter, four SMU alumni conducted a virtual workout session to warm up and hype up participants.
Participants engaged in walking, running, or attending a variety of workout sessions conducted by SMU alumni to clock their distances. The event was the epitome of team spirit and bonding, as it saw many participants banding together to put their own creative spin during their workouts — in fact, a number of individuals and teams even managed to amazingly spell out the word "SMOO" in their running routes!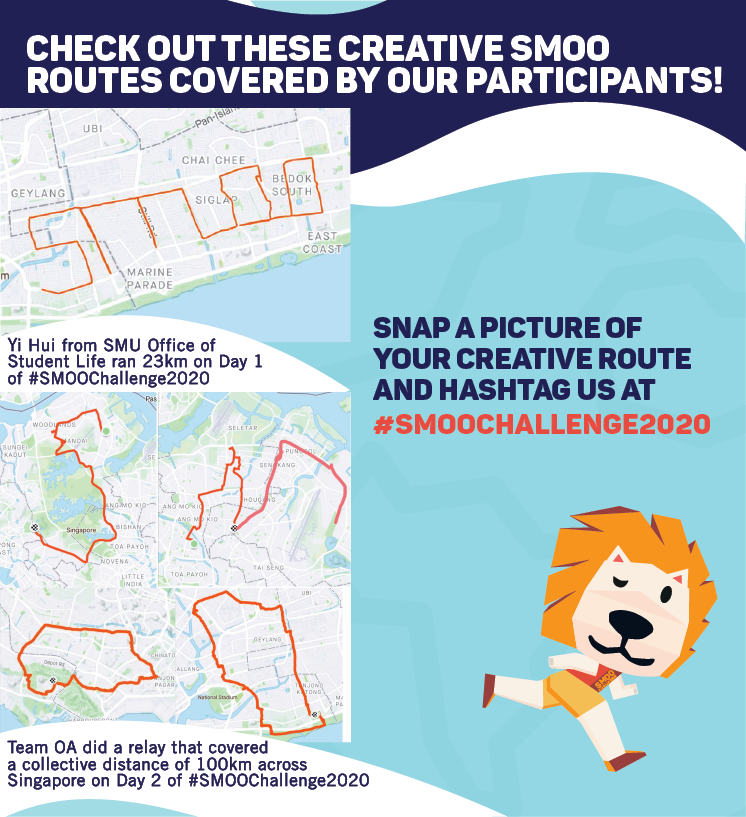 In addition, the SMU Broadcast and Entertainment team specially curated Spotify playlists so participants could enjoy the music vibes and listen to it during their personal HIIT workouts or running sessions.
In conjunction with the SMOO Challenge, participants had the opportunity to try their hands at an array of interactive online activities hosted by various SMU alumni during the campaign period. National marathoner Dr Ashley Liew (BSocSc, 2012) and chiropractor conducted an online chiropractic workshop on spinal care; other workout sessions included Toning Up with Tyen Rasif (BBM, 2020), Box-HIIT by Jerusha Chen (LLB, 2020), strength-training techniques by Gillian Goh (BBM, 2014), Barre with Meaghan See (LLB, 2011) and active recovery yoga by Vera Soh (BSc(Econ), 2015) were held.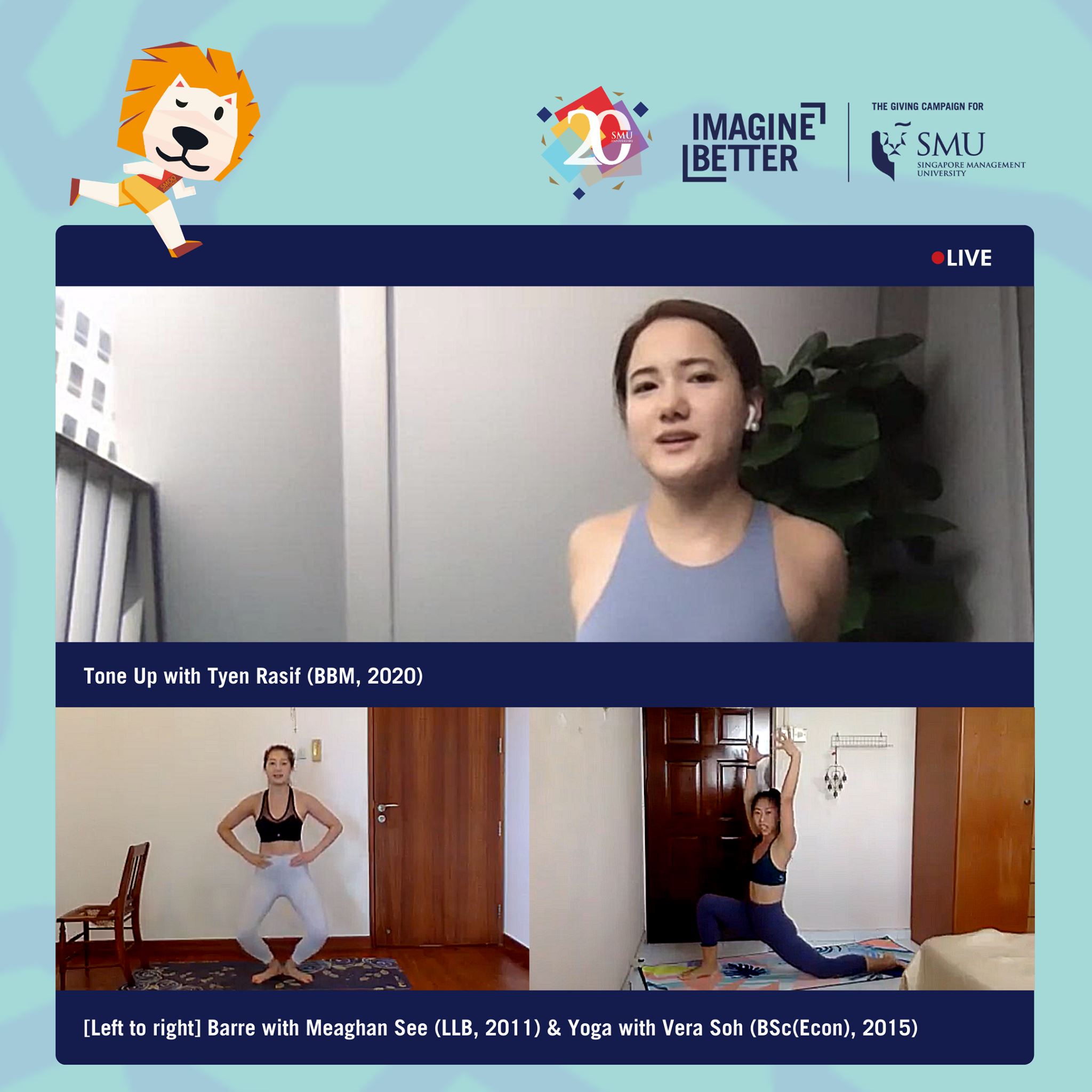 In addition, we had alumni and student ambassadors such as celebrity personal trainer Tyen Rasif (BBM, 2020), SGAG and SMU's very own Adrian Ang (BBM, 2013) and media personality Jade Seah (BBM, 2006) just to name a few, to lend their support and help raise awareness about SMOO Challenge. Student ambassador Shaun Michael (BBM, 2021) hoped of contributing to society and running for a good cause in the midst of tough times, believing that "we can all give back in different ways, tangible or not. Everyone has the capacity to help or to inspire others to be better." These ambassadors rose to the occasion to share their personal insights and motivated participants to join in the meaningful cause.
Though we have reached the end of SMOO Challenge, the experience each participant has gained is something that can never be taken away from him or her. Vanessa Yung (MSE, 2017), said, "I truly feel happy to have been able to play a small part in this, I was also very touched that so many of my friends immediately opened their hearts and wallets when I shared about this cause and lastly, knowing that my knees are still capable of going the distance" when asked about her experience.
Terence Quek (MCM, 2013), also shared that "from knowing that my company signed up to run together with me, to knowing that we have doubled the target distance and surpassed the total amount we had planned to raise for SMU Bursary Fund" were some highlights of his SMOO Challenge journey. He remarked that he himself was not a runner and that achieving 100km in 20days was indeed a challenge for him and he was glad to have completed it within a good time.
Upon reflection, 3rd-year Accounting student Ler Jun Wei, Chairperson of SMU Challenge Organising Committee (BAcc, 2022), said that "the most impactful learning point for me and the biggest factors to our success would have to be determination and teamwork; backing each other up when things were tough and cheering each other on when things were going well".