Singaporeans increasingly satisfied with public cleanliness but rely on cleaning services to keep Singapore clean
SMU presents findings from the 2019 Public Cleanliness Satisfaction Survey on Singaporeans' attitudes towards public cleanliness in Singapore.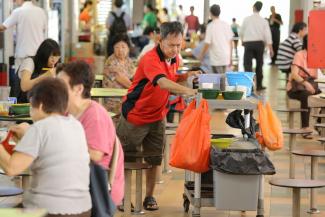 SINGAPORE, 18 September 2020 (Friday) – The Singapore Management University (SMU) undertook the third wave of the Public Cleanliness Satisfaction Survey (PCSS). 1,716 responses were collected from Singapore residents before the start of the Circuit Breaker. The 2019 wave of the survey was led by Professor Paulin Straughan, Professor of Sociology (Practice) And Dean of Students at SMU, and Dr Mathew Mathews, Head, Social Lab and Senior Research Fellow at the Institute of Policy Studies, where they looked at the public's perception of public cleanliness and hygiene in Singapore.
Increased levels of satisfaction with cleanliness
Most respondents reported feeling satisfied with the level of cleanliness in Singapore, with 93% being satisfied with the cleanliness of public spaces that they had recently visited, a 9% increase from 2018.
Increases were also seen in levels of satisfaction with the cleanliness of public domains, such as neighbourhood areas, commuter paths, transport facilities, and leisure spaces. For instance, satisfaction with the cleanliness of food and beverage (F&B) outlets saw a large increase, with 25% more respondents feeling satisfied with the cleanliness of hawker centres than in 2018 (62% in 2018 vs 87% in 2019).
However, respondents were divided on whether consumers should be responsible for maintaining cleanliness standards of F&B establishments. For instance, more than a third of respondents (36%) were unsure if they were supposed to return their trays after eating at F&B establishments, or if it was the responsibility of the cleaners. Thirty seven percent of respondents felt that it was the responsibility of the cleaners to remove the trays from tables.
Residents responsible for the cleanliness of their environments
In contrast, respondents did see residents as having greater responsibility for cleanliness in other public spaces. For example, a majority of survey respondents expected residents in the neighbourhood to be responsible for the cleaning of their environment. They believed that residents should help to move excess trash to the central bin centre rather than wait for the cleaners to clear it the next morning (81%). Respondents were unanimous in their view that residents who see overflowing trash bins should contact the town council for cleaners to clear the bins promptly.
Most respondents (96%) also agreed that residents should work together with cleaners to keep the neighbourhood clean. However, when asked if they would volunteer in a neighbourhood group that championed cleanliness matters, less than half (46%) were willing. This perhaps indicates that while respondents felt that residents should help to keep the neighbourhood clean, they nevertheless still relied on cleaners to do so as 87% of respondents also acknowledged that Singapore is clean only because of the efficiency of its cleaning services.
In light of this, Professor Paulin Straughan said, "In order to encourage the public to be more proactive in keeping our city clean, it is important to establish clear norms and expectations. For instance, it should be made clearer that the responsibility to return trays at F&B establishments lies in individuals and not the cleaners. Initiatives that Singaporeans would feel comfortable being a part of should also be developed for residents to contribute to the cleanliness of their neighbourhood. Such changes can go a long way in fostering a greater sense of social responsibility for the cleanliness of our city."
Dr Mathews remarked that "The study clearly shows that Singaporeans understand that personal responsibility is important for maintaining the clean environment we so treasure. A Clean Singapore is a matter of national pride and identity. However we are still battling internally as to how much we should be responsible – should it entail us picking litter ourselves or is it good enough for us to know how to call the cleaners to help".
Public Hygiene at shared spaces and buildings
Finally, in addition to understanding views about public cleanliness, the 2019 wave of the survey also asked about public hygiene. More than 95% of respondents were agreeable to legislation and the enforcement of public hygiene in shared spaces such as childcare centres, eldercare facilities, schools, food establishments, and shopping centres. Respondents also expected that building operators be made responsible for the public hygiene of their buildings.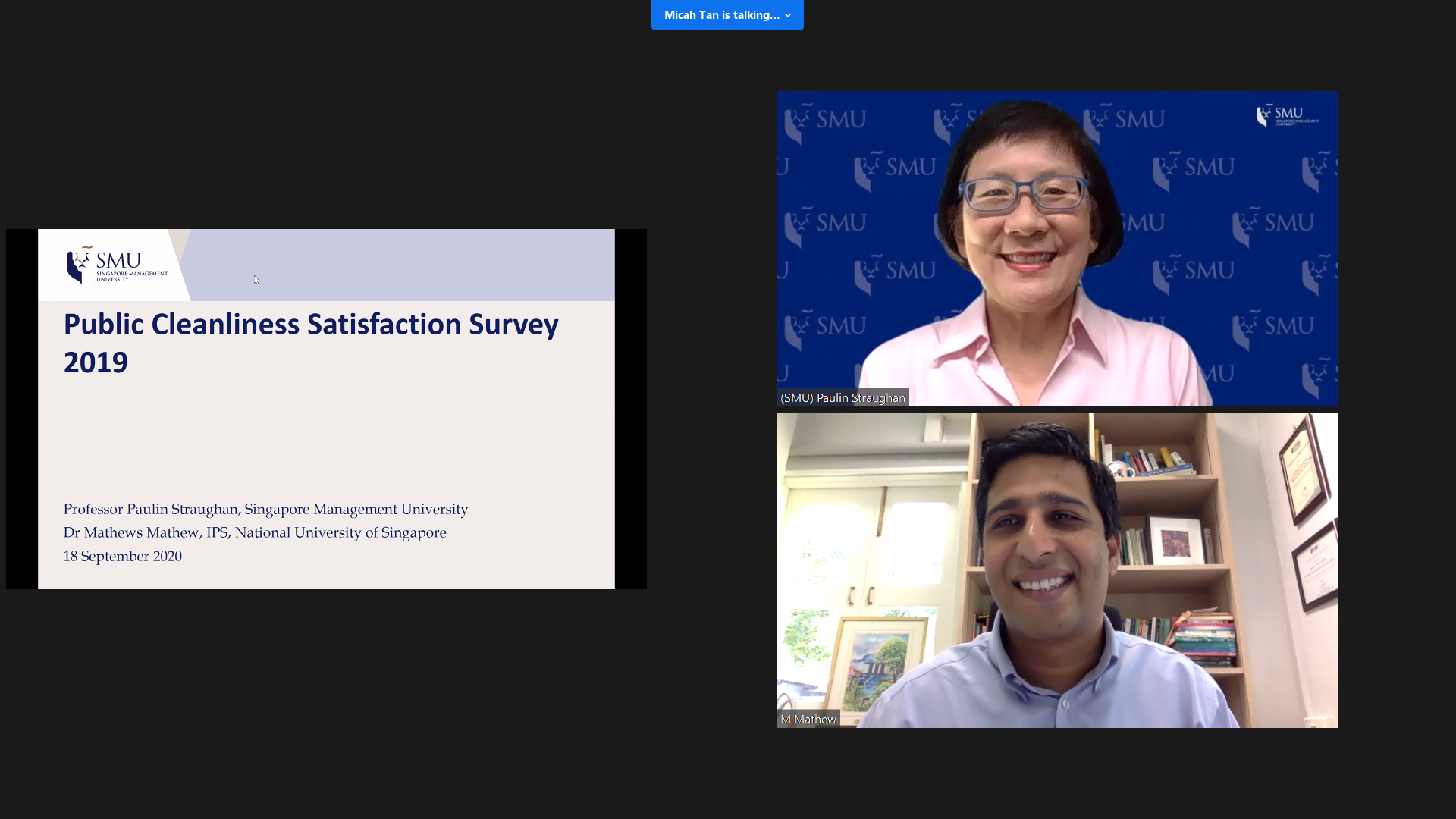 You can download a copy of the latest report and previous waves here:
Read media reports here:
TODAY Online: Most Singaporeans too reliant on cleaners, unwilling to pick up trash from the ground: Study
The Straits Times: Most Singapore residents keen on laws for stricter public hygiene standards: SMU survey