Tinker Kits save kids from Circuit Breaker boredom
With help from creative and entrepreneurial friends, national golfer and SMU undergrad Jen Goh delivers a winning shot with craft kits for children and their families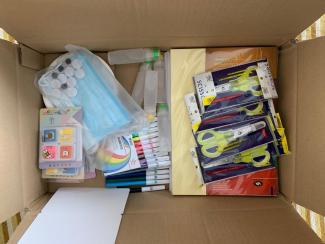 Sports and arts do mix - just ask SMU's Jen Goh. All it takes is some tinkering outside the box.
The national golfer and third-year social sciences student observed that during the recent school holidays - which was made to coincide with Singapore's Circuit Breaker measures – many children had nothing to do at home. Its impact also cast a spotlight on lower-income families and their lack of resources. Jen had a bright spark: entertain kids with craftwork!
"I have been thinking of ways to help kids discover themselves and have a better tomorrow. So the Circuit Breaker was the perfect period for me to stop thinking and start doing, " explained Jen, who has a heart for children and has volunteered with various social organisations locally, as well as abroad when she was studying overseas.
Burdened by the plight of these children's social circumstances, Jen approached three close friends - professionals from different industries who dabble with the creative arts, and they decided to help kids from less privileged families in an interactive, engaging and fun way.

Together, they co-founded a community ground-up effort called HopeFull, and came up with their first project – The Tinker Kit. These all-inclusive themed boxes filled with arts and craft material, activity sheets, reflection journals, science experiments and even simple sports equipment like mini sports balls, exercise bands and skipping ropes for children to occupy their time with, and more importantly, learn new things in the process. Each kit is designed to provide sufficient weekly activities to engage children for an entire month.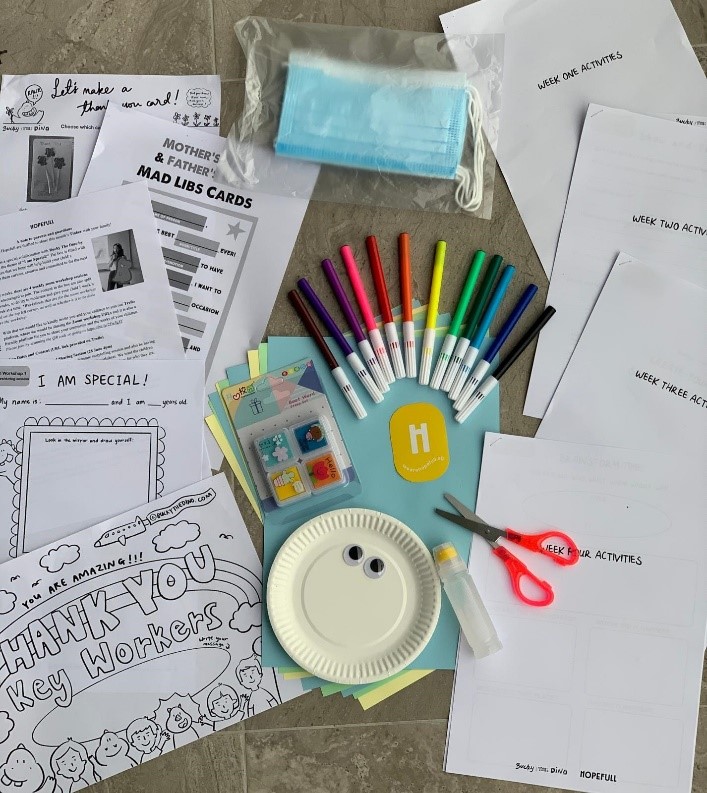 All materials are developed by the multi-talented core team, which now also includes fellow Team Singapore sportsmen like former sprinter U.K. Shyam, cyclist Calvin Sim and basketballer Ng Han Bin. The collaboration is part of an "Athletes with Voices" initiative by former radio DJ Mark Richmond and Team Lead of Team Singapore. 
The key to each box's enjoyable contents is ensuring its creators have as much fun putting them together.
"We make open calls to our community of about 20 volunteers with different talents and let them create or curate each box's contents. Together, we decide on a theme for a box, then let them run wild with their ideas and contributions," explained Jen, who is also a member of SMU Golf.
The Tinker Kits hit a hole-in-one.
In the first month, the group delivered 200 kits. But demand for them was so good, the group decided to increase production to 350 kits the following month. They have plans to produce even more – up to 500 for future months. Some kits are even specially tailored for children of different age groups. But therein lies a logistical problem: coping with the increased demand and deliveries.
"While exciting and fantastic, we need to rethink our workflow and how to be more efficient. Sending hundreds of packages by mail is no joke!"
Despite studies and nearly 30 hours of weekly training, Jen is determined to take the project for the long run; she and her teammates intend to convert HopeFull into a non-governmental organisation so that it can serve the community even past Covid-19.
HopeFull currently serves four beneficiaries, and the team plans to work with more. However, putting together contents for each kit is not cheap. With all-inclusive materials included, each kit costs roughly $5 to produce, exclusive of sponsored items. However, the resourceful team has secured partnerships with social organisations and foundations to help in funding. On top of that, it has received a $5000 grant from Temasek Trust's Oscar@Sg fund, a generous sponsorship of 2500 kits - enough to keep 500 kids occupied for 5 months - and is also receiving donations via crowdfunding.
Yet, this is not all. Jen's team of volunteers hopes to bring the idea of The Tinker Kits into cyberspace: they are currently building and contributing to a digital resource so children can explore their various curiosities more conveniently online.
It goes to show that the spirit of giving back does not depend on where one's passions lie. With a dash of will-power, a touch of creativity, and an entrepreneurial mindset, anyone can make a difference, regardless of talent in whatever field - arts, sports or otherwise.
Said Jen decisively: "As long as we come together, we can make an impact. We try to be part of the social fabric, to actively do and give, so we can change lives - we just need to think big, but start small!"