SMU's Accountancy Professor Seow Poh Sun wins first place in 2020 Howard Teall Innovation in Accounting Education Award for "Using a Student‐Generated Video Project to Teach Internal Controls"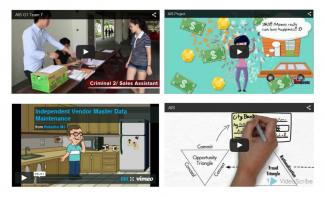 Seow Poh Sun, Associate Professor of Accounting (Education) and Associate Dean (Teaching and Curriculum) has won first place in the 2020 Howard Teall Innovation in Accounting Education Award organised by The Canadian Academic Accounting Association (CAAA).
The Howard Teall Award, named after Professor Howard Teall who is an outstanding educator, recognises an individual who goes "above and beyond" to create original learning activities and to motivate students to pursue future learning opportunities, and has a unique and innovative approach to accounting education.
The Howard Teall Award committee, through a letter, recognised Assoc Prof Seow's proposal - Using a Student‐Generated Video Project to Teach Internal Controls – as a "unique and innovative approach to teach accounting. We acknowledge that the Student‐Generated Video Project is an engaging way for students to be self-directed and active learners. In fact, the project helps the students enhance their technical competencies and complements the written materials in the textbook. Moreover, it enhances enabling competencies in different ways. Generating a video by students is an original and a valuable experience in working as a team to tackle unfamiliar challenges. The fact that students have to comment on and evaluate videos produced by their peers facilitates collaborative learning and introduces social dynamics into the course. It provides a sense of belonging, enabling students to experience a sense of emotional connection with both peers and lecturers."
According to Assoc Prof Seow, he began the student-generated video project because he had been receiving student feedback at the end-of-course evaluation indicating that internal controls is a dry topic to learn from the textbook and lecture slides. Thus, he was motivated to encourage his students to produce their own videos on internal controls in order to increase their interest and better understand internal controls in their everyday life.
Student-generated videos require that the students have high levels of understanding of the subject matter. As students are actively involved in generating the video, they learn to take ownership of their own learning. Assoc Prof Seow believes that this video learning approach "is an engaging way for students to be self-directed learners and complements the written materials in the textbook." He also added, "Students have to comment on videos produced by their peers. I feel that this approach facilitates collaborative learning."
The video project was developed for the ACCT221 Accounting Information Systems (AIS) course. It is a second year course in the Bachelor of Accountancy degree programme and provides knowledge about the analysis, design and use of accounting information systems. It addresses the following key concepts: role of internal controls in an accounting system; documentation of accounting information systems; database management, business processes and modelling; and the role of accounting information systems in major business processes.
Besides creating the video, students were required to write the learning objectives and a discussion question on the discussion forum to trigger discussion in order to facilitate collaborative learning. Each student completed a peer evaluation based on the marking rubrics of seven points for "Demonstration of AIS content" and three points for "Originality and Creativity". Students were not allowed to rate their own videos and the group with the highest score for their video won a $100 voucher.
Indeed, survey results showed that most of the respondents viewed the learning experience of the video project positively. Students' testimonials showed that the Project is a highly appreciated educational experience that increases enthusiasm about the information presented and improves motivation to learn, and brings fun to student groups while brainstorming scenarios and actions.
"The AIS video project is definitely a teaching innovation. Because we can apply the theory that was taught in class, into a video where a picture says a thousand words. It is so much easier to understand the technical terms behind it with a video. The video project allows us to bond with our group mate(s) and it is one of the fun times where we brainstorm on various scenarios, the required expressions and actions of each one of us and also, helps each other to act better by giving comments."
By Soh Siow Ling, SOA (Class of 2017)
"The internal controls chapter is quite a dry topic to absorb, not mentioning the heavy content, thus I believe that through this mini project, we are able to digest the content more easily via the funny and entertaining videos produced by different groups!"
By Lee Yan Jiao, SOA (Class of 2017)
Professor Cheng Qiang, Dean of SOA, said, "Assoc Professor Seow has inspired many professors in Singapore and beyond with his innovative teaching methods, which has proven popular with his students. We are very proud to receive a second award from the CAAA and will continue to implement innovative pedagogical practices in our curriculum."
As a winning submission for the Howard Teall Innovation in Accounting Education Award, Assoc Prof Seow will receive a cheque for $500 CAD and an invitation to the 2021 CAAA Conference in Quebec City to receive his award and present his submission and ideas at a roundtable.
Together with his colleague, Senior Lecturer Wong Suay Peng, they also won last year's second place for the ACE (Accounting Challenge) Mobile-gaming app.
Congratulations again, Assoc Prof Seow!
*Updates: Due to the pandemic, Assoc Prof Seow was unable to travel to Quebec City. Instead, there was a virtual ceremony held at the CAAA Annual Conference 2021. Watch here.