Spotlight on Digital Change and Economic Dynamism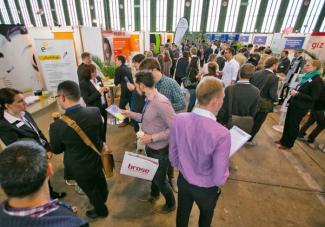 SMU Professor of Organisational Behaviour and Human Resources Thomas Menkhoff shared his insights on the areas of innovation and entrepreneurship in Estonia and Germany.
Prof Menkhoff made reference to the experiences gained during a business study mission themed "Coping with Digital Transformation" and designed to examine aspects of business management and digital change. 27 undergraduates from SMU's Lee Kong Chian School of Business participated in the study trip, gaining good first hand exposure to some of the secrets of Germany's and Estonia's economic dynamism.
Here is the commentary article by Prof Menkhoff which was published in The Business Times (1 December 2018):
Lessons from two Smart Nations: Germany & Estonia
COOPERATION links between Singapore, Germany and Estonia continue to grow steadily, marked by several commonalities, such as successful startups, an open business environment, as well as strategic value creation through entrepreneurial innovation.
This impression was confirmed during a recent study trip to the capitals of Germany (Berlin) and Estonia (Tallinn) with 27 Singapore Management University (SMU) undergraduates last month with the theme "Coping with Digital Transformation".
Besides examining general aspects of business management and digital change, a key objective was to expose Singapore youth to some of the secrets of Germany's and Estonia's economic dynamism: Germany's operational (engineering) excellence and sustainable mobility solutions, which enable export-oriented multinationals such Daimler Benz to continue their global market leadership role in the automotive sector; and Estonia's digital leadership in the area of government e-initiatives and cybersecurity.
Berlin: Germany's new startup hub
Like Singapore and Barcelona, Berlin is determined to become one of Europe's leading carbon-neutral "Smart Cities". Propelled by the transition to a low-carbon, environmentally sound, reliable and affordable energy supply, and a vibrant technology ecosystem, Germany's capital has become a hub for ground-up initiatives in the areas of urban mobility, renewable energy and digital economy to develop intelligent solutions for the city of tomorrow.
One driver is the Berlin Agency for Electromobility eMO, the central point of contact for smart mobility in the German capital region. Its "Pole Position project" features a self-driving shuttle called "EZ 10" which is running on Berlin's 5.5-hectare futuristic EUREF (European Energy Forum) campus that will be upgraded for fully automated inductive charging and on-demand use. The EUREF campus is a business, research and education hub built on a former industrial site.
It serves as test bed and showcase platform for regulators, transport operators, airports, corporations, business parks and universities who wish to experience new autonomous mobility solutions. While the self-driving shuttle EZ 10 is ideal for last-mile transportation, experts from global testing, certification, inspection and training provider TÜV SÜD have assessed the EZ 10 for open road usage.
The EUREF campus hosts clean-energy-related companies and organisations such as the Green Garage, a cleantech accelerator that helps startups turn the climate challenge into a business opportunity.
Another example is SirPlus founded by food activist Raphael Fellmer and his team. Its mission is to curb food wastage, a huge problem in Europe as 50 per cent of edible food is being wasted (which in turn adds to the problem of CO2 pollution). SirPlus manages to save tonnes of food from landing in the bin by selling surplus food in their own food outlet store, via their same-day delivery service in Berlin, and also online with delivery across Germany.
I also noted in Berlin several bottom-up initiatives towards a more citizen-focused smart city. For instance, the Flussbad project which is aimed at transforming the Spree Canal in downtown Berlin into a river pool to allow public swimming. Citizens were also instrumental in turning the former Tempelhof airport (built at the beginning of the 1920s) into one of the world's largest, centrally located open spaces for public use, comprising a six-kilometre cycling, skating and jogging trail, a barbecue area, a huge communal garden, and picnic sites.
The increasing importance of low-emission, sustainable mobility of the future became obvious during our visit to the Mercedes-Benz plant in Berlin-Marienfelde. The plant is a key component of the company's global powertrain production network with over 2,500 employees (the term "powertrain" refers to the engine, transmission, and drivetrain). The high-tech plant produces the innovative valve-timing system Camtronic which cuts fuel consumption and helps to minimise CO2 emissions. Our group also gained deeper insights into Daimler's dual training and higher education approach characterised by the close integration of both on-the-job and off-the-job training.
The future success of the German automotive cluster and participating firms increasingly depends on the mastery of the digital transformation and electric drive technology. Like other big firms, Daimler aspires to digitise the entire value chain.
It has implemented new formats for digital transformation, such as DigitalLife Campus hackathons, where the most creative and passionate coders from around the world come together to build ground-breaking prototypes and new AI powered software solutions during one weekend. Its new smart Pop-up Store in Berlin's central boulevard, Unter den Linden, educates mall-goers and millennial shoppers about the Mercedes brand and the smart (brand) portfolio, such as the electric Smart ForFour city car.
Innovation-oriented and ready for business: The city of Tallinn
The study trip to Estonia was a first for SMU. Just like Berlin, Tallinn, Estonia's capital, has become home to numerous startups, such as cloud-based CAD collaboration solution provider GrabCAD, Pipedrive (a cloud-based sales software company) and cybersecurity expert CybExer. The smart Baltic state was part of the German-led Hanseatic League formed around the middle of the 12th century by German and Scandinavian seafaring merchants. It borders the Baltic Sea and the Gulf of Finland between Latvia and Russia. Its population of 1.3 million people comprises Estonians (68.7 per cent), Russians (24.8 per cent), Ukrainians (1.7 per cent), Belarusians (1 per cent), Finns (0.6 per cent), and others (3.2 per cent).
While covered to a large extent by forests, Estonia has produced famous unicorns such as Skype, and continues to create digital innovations ranging from e-government to smart agriculture. Estonia regained independence from the Soviet Union in 1991, and has been a member of the EU since 2004. It joined the eurozone (a monetary union of 19 of the 28 European Union member states) in 2011, adopted the euro as its currency and became a member of Nato.
Estonians are very tech-savvy (even our tour bus had Wi-Fi). Ninety-eight per cent of Estonians possess a catch-all ID card that is used to securely access various e-services ranging from voting and tax declarations to disaster response or getting doctors' prescriptions.
In 2014, Estonia pioneered the novel e-Residency Identity Card which enables non-Estonians such as digital nomads, startups, freelancers or EU companies to utilise Estonian services such as registering a company, finance, processing payments, and settling tax matters. Since its launch, thousands of e-residents have enjoyed the benefits of the Estonian ID card to start location-independent businesses, sign contracts etc. One of the firms we visited in Tallinn was money transfer firm TransferWise. The company was started by Taavet Hinrikus and Kristo Käärmann in London in 2011, to enable transfers between the British pound and euro. Its competitive strengths include favourable exchange rates, transfer speed and its easy-to-use website.
Estonia's homegrown challenges include migration dependence as a result of negative population growth vis-a-vis decreasing emigration, socio-economic issues arising from the existence of two large Estonian-speaking and Russian-speaking language groups, the rural-urban divide and its small domestic market. Overall, we found Estonia's digitised society and smart e-governance approach exemplary for both digital latecomers and the leaders of "smart" nations.
While both Germany and Estonia are confronted with an increasingly volatile and uncertain environments characterised by cyber warfare (such as to hobble competitors), a large number of non-citizens (with associated rising anti-immigrant sentiments in the German case) and a trend towards national introspection, the visits confirmed that digitalisation continues to create a swell of change that needs to be managed sustainably.
The writer is professor of Organisational Behaviour and Human Resources at the Lee Kong Chian School of Business, Singapore Management University.
Source: The Business Times © Singapore Press Holdings Limited. Permission required for reproduction.