SMU's Accountancy Academics are the first in Asia to win the Jim Bulloch Award for Innovations in Management Accounting Education for their Accounting Challenge App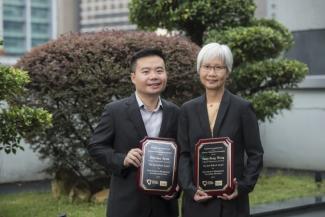 [Seow Poh Sun, Associate Professor of Accounting (Education) and Associate Dean (Teaching and Curriculum) and Senior Lecturer Wong Suay Peng posing with their Award]
Seow Poh Sun, Associate Professor of Accounting (Education) and Associate Dean (Teaching and Curriculum) and Wong Suay Peng, Senior lecturer of the School of Accountancy were honoured with the Jim Bulloch Award for Innovations in Management Accounting Education from the American Accounting Association (AAA) for their work "Accounting Challenge: Mobile-Gaming App for Learning Accounting[1] (ACE)." 
Sponsored by the Institute of Management Accountants (IMA), the award aims to recognise and reward faculty members who have created or written innovative pedagogical practices or curriculum materials in the area of management accounting. The award provides a plaque and $3,000 to the recipient.
Chair of the Award Committee and The University of Texas at Tyler's Associate Professor of Accounting Nicholas Fessler said that "the submission by Poh Sun and Suay Peng was the unanimous first choice of all members of the selection committee."
Associate Professor of Accounting Seow Poh Sun who received the award at the AAA Annual Meeting in San Diego on 7 August 2017 said, "ACE aims to enhance learning of accounting outside the classroom by engaging students to play and learn accounting on the go, anywhere at any time. It combines mobile learning and game-based learning to generate interest and motivation for the digital-native students."
In addition, Senior Lecturer Wong Suay Peng, who uses the app as a means of self-paced learning and assessment in her class said that, "ACE provides a convenient means of enhancing learning in a fun and exciting way.  It is easy to use and its leader board feature facilitates friendly competition that motivates the students to improve. It changes students' perception that accounting is a very dry course."
Indeed, feedback received from students have been positive. As they could play the game anytime, anywhere and as many times as they wished to improve their scores, they need not fear of making mistakes and are motivated to improve their personal best. The scores contribute to 3% of their course assessment if they could score at least 25 marks by Week 9.
Over the years, ACE has won three international teaching awards. In 2015, the AAA had also awarded the duo with the 2015 Innovation in Accounting Education Award for their App. That was the first time in the history of the AAA that the award had been presented to professors of a university outside of America.
As at September 2017, ACE has been downloaded 29,236 times, spanning 90 countries. The top three countries for the number of download were United States of America, Singapore and Philippines.
Professor Cheng Qiang, Dean of SoA, said, "The duo has worked hard on conceptualising this innovative app and have received highly positive feedback from users of the ACE app both within and beyond SMU. We are proud to receive a second award from the AAA and will continue to implement innovative pedagogical practices in our curriculum."
---
[1] Accounting Challenge (ACE) is the first mobile-gaming app for learning accounting. ACE is freely
available in iPhone/iPad and Android version. The first version of the app that was launched in 2013
consisted of only the financial accounting module. In 2016, it was expanded to include management
accounting, more question types and more user-friendly features.