SMU's Cai Yinzhou Conferred Singapore Youth Award 2017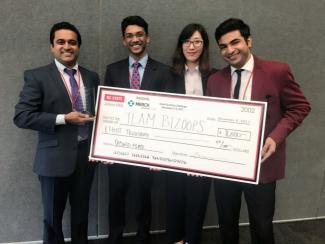 SMU Master of Tri-Sector Collaboration (MTSC) student Cai Yinzhou has been conferred the Singapore Youth Award (SYA) 2017. Receiving the award from Deputy Prime Minister Tharman Shanmugaratnam at the Singapore Youth Award and Youth Corps Commencement Ceremony held at Ngee Ann Polytechnic on Saturday, 21 October 2017, Yinzhou is one of five individuals who were recognised with the nation's highest accolade for youth.
First established in 1975, the SYA is an annual award honouring exceptional young people who exemplify the values of resilience, courage, leadership, service and ambition, and who bring distinction to the nation. Past recipients include Paralympic gold medallist Yip Pin Xiu, Olympic silver medallist Li Jiawei and filmmaker Anthony Chen.
Sharing his thoughts on the award he received, Yinzhou said: "It's been an exciting journey. I don't think I would have expected anything close to winning this award. The SYA is a validation, at a national level, of our efforts in creating new models of giving back to society. One of my greatest hopes for the future is that the different forms of giving back, in sustainable ways, will be accepted and recognised by society." 
At age 26, Yinzhou was the youngest finalist in this year's Singapore Youth Award. Since his childhood days, the social entrepreneur has demonstrated a deep passion for engaging and creating impact for communities and the environment. Describing himself as an individual who is mindful, accountable and adventurous, Yinzhou elaborated on what motivates him on his journey of social changemaking: "The work we do is full of unknowns. It's an element I thrive on. At the same time, I'm mindful of the people we serve and the lives of the volunteers that we impact. At the end of the day, it's about how people are able to benefit from our projects and the work we do."
In 2013, with the objective of unpacking social issues and bringing about positive social change after graduation, Yinzhou founded Geylang Adventures. He believes that migrant workers, who form a significant part of the Geylang community and contribute to Singapore's society, are often marginalised and treated as outsiders in their adopted homeland.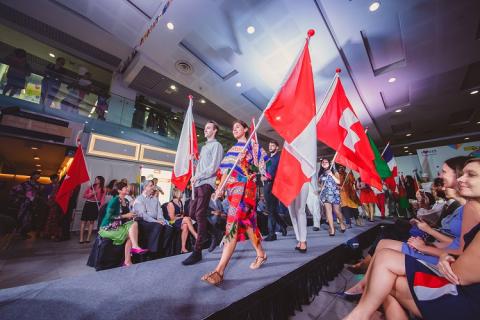 Armed with a vision of bridging the gap by forming friendships and building empathy, Yinzhou and his team of volunteers have been conducting walking tours, educational and heritage programmes in the Geylang neighbourhood. By creating opportunities for interaction and organising projects to work with the migrant worker community, the team at Geylang Adventures helps to break down social barriers. Since the initiative was launched, Yinzhou has designed and led heritage trails for over 3,000 people through the different lorongs of Geylang, for a first-hand insight to the lesser-seen side of Singapore's red light district.
Besides Geylang Adventures, Yinzhou has been working with non-government organisations and public institutions to serve Singapore's underprivileged. Between Two Homes is a research project that documented the relocation of Dakota Crescent's elderly residents, with funding from the Ministry of Culture, Community and Youth's Our Singapore Fund. The project examined the impact on elderly residents residing within the Dakota Crescent estate, who had to be relocated due to the redevelopment of the estate. Following the relocation, Yinzhou continues to serve as a Team Lead with the Resettlement Team at their new location at Cassia Crescent, assisting the elderly residents in adjusting to their new surroundings and ensuring the provision of essential services.
Passion for serving disadvantaged communities galvanised him to start Back Alley Barbers. The initiative provides free haircuts for low income elderly and foreign workers, who delay haircuts to save money. According to Yinzhou, "Haircuts are a great way to interact with someone because it's very intimate."
On balancing his time between the many community initiatives he is engaged in, with the rigours of the SMU MTSC programme, Yinzhou commented, "I don't go on holiday. Just joking! When you enjoy what you're doing, you don't perceive it as work. The great thing about doing my Masters' right now is that it is fully relevant and I can apply what I'm learning immediately to my work."
SMU's 18-month MTSC programme is designed to be modular and straddles across three calendar years to cater to the annual leave constraints of working professionals.
Yinzhou said: "When I first heard of the Master of Tri-Sector Collaboration programme, I thought of "collaboration" as a fairly ambiguous concept. Having met and spoken with those in the programme, I've come to realise that the course looks at bringing people who share a common vision to the same table to effect change, looking at different models of improvement and analysing how change can be scaled up to a different level. The MTSC will do just that, for myself. Since I started the programme, there's been many conversations, inside and outside of the classroom, about sustainability and partnership brokering. I see the 18-month programme as the perfect time to network, share and experiment on new ideas." 
As many postgraduate students can attest, holding a full-time job while enrolled in studies brings high stakes in terms of the commitment of energy and financial costs. Yinzhou shares that view and added: "It's a risk I'm willing to take because I know there's huge value. SMU's MTSC programme is different from the current offerings of other schools. I believe it is a programme that is deeply relevant for the future, and I'm glad to be part of it."
[Featured photo: Dispensing free haircuts to migrant workers is all in a day's work for Cai Yinzhou, who was conferred the Singapore Youth Award 2017 on 21 October for his commitment to social impact.]