Latest SMU Engage out now
Download the January 2015 edition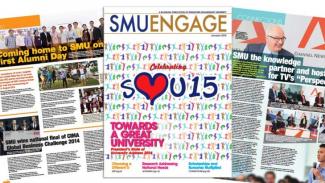 President's State of the University Address 2014 reviewed
Highlights of Commencement 2014 and Convocation 2014 
SMU stars in CNA TV's "Perspectives"
The SMU Engage January 2015 newsletter is now available to download here. This is what Alan Goh, Vice President, Corporate Communications and Marketing, wrote in his Editor's Note.
---
As we start a new term and new calendar year, we are looking forward to celebrating the 50th anniversary of Singapore gaining its independence and SMU's 15th anniversary of being established – as indicated by the colourful and vibrant front cover of this special edition of SMU Engage. The University faces the momentous year ahead reinvigorated by our commitment to SMU Vision 2025.
This 10-year plan was first revealed to the wider SMU community by SMU President Professor Arnoud De Meyer in his State of the University Address 2014. Professor De Meyer spelled out the steps that will be necessary to transform SMU into a truly great university. You will find a review of SMU Vision 2025 and the reactions in our feature story.
Articles on Commencement and Convocation ceremonies once again demonstrated that SMU is a Different U that constantly pushes the boundaries to find new, creative and different ways at doing things. In our Zest section, we highlight some of the recent sporting, artistic and other achievements of our students, as well as the annual community service initiative, SMU Challenge, and our first ever Alumni Day.
The appointment of a new Dean at the Lee Kong Chian School of Business, Professor Gerard George, fronts the Academia section. We are delighted to report the appointment of Nobel Laureate Professor Thomas J. Sargent as a Distinguished Term Professor, and on the winners in this year's Teaching and Research Excellence Awards.
In the Connections section, you can read about the conferment of an Honorary Doctorate on the eminent businessman, Mr Ratan Tata. News of four additional scholarships and two bursaries underscores our determination that no deserving student will be deprived of an SMU education because of financial circumstances. There are accounts of some major conferences and lectures organised by SMU, as well as the Channel NewsAsia television series "Perspectives", which is being recorded on campus and has featured Professor De Meyer, SMU Chairman Mr Ho Kwon Ping, and other senior faculty members debating topical issues with other thought-leaders.
I hope you find this latest issue of the SMU newsletter to be an engaging read.
Here's to a great 2015!
Alan Goh
Vice President
Corporate Communications & Marketing