Making a Sustainable Transition to E-Commerce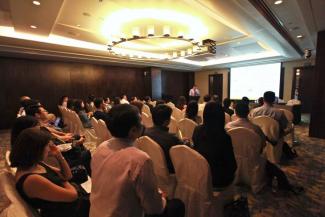 The Internet may have revolutionised the way we shop, but at the end of the day, physical goods still need to be delivered into dense city centres. Can urban logistics be made more sustainable? Rebecca Tan finds out.
---
From the consumer's point of view, e-commerce is a boon. With a few mouse clicks, it is now possible to purchase just about anything online and have it delivered right to the doorstep. Coupled with increasingly secure payment methods, it is hardly surprising that e-commerce has rapidly taken off in recent years.
Unbeknownst to the consumer, however, e-commerce puts a considerable strain on logistic companies, urban planners and ultimately, the environment. This begets the question: is e-commerce a problem or a blessing for greener, more sustainable logistics in urban areas?
This issue was explored by a panel of distinguished experts from industry, academia and society during the Singapore Management University's (SMU) annual logistics and supply chain symposium, "Urban Logistics: E-Commerce & Sustainability" held at the Carlton Hotel on 28 November 2014.
The panel raised the concern that e-commerce might contribute to less energy-efficient supply chains, essentially forcing logistics companies to make deliveries point to point. In contrast, traditional retailing at brick and mortar shops seemed more efficient in the sense that fewer trips were required.
Consolidation by regulation?
"The 'last mile problem'—getting the goods from the freight centres to their final destination in retail stores or directly to consumers—is often the most inefficient, taking up to 38 percent of the total cost of transport," explained SMU Professor of Information Systems Lau Hoong Chuin in his opening address.
One way to ease freight flow into dense city centres is to mandate it by law, directly restricting the number of companies authorised to make deliveries, thereby promoting consolidation before delivery. However, while it is acknowledged that some degree of regulation is required, the panelists stressed that regulation needs to go hand in hand with better systems and the optimisation of resources.
Enforcing transport laws before the supporting infrastructure is in place would cause a huge setback for customers in terms of convenience. The current e-commerce logistic infrastructure is undergoing transition, with companies in the process of adapting to the challenges of last mile delivery and other demands of the new e-commerce reality. Although firms tend to gravitate towards delivery systems that are economical in order to safeguard their bottom-line, the panel expressed optimism that the infrastructure would become efficient and sustainable within the next 5 to 10 years.
An opportunity for sustainability
The panel came to the conclusion that  e-commerce has the potential to make the supply and delivery of goods more sustainable and environmentally friendly, for it reduces travel to shopping malls. Furthermore, e-commerce can also reduce overproduction or the production of low-demand goods by only shipping on demand, thus reducing the impact of transporting surplus stock to and fro warehouses. As companies are in the process of adapting to the new e-commerce reality, they will also explore ways to unlock its 'green' potential.
For the academics, these practical challenges faced by companies represent an exciting opportunity for collaboration and research, said the moderator of the panel, Mr Stephan Schablinski, Director of Sustainable Supply Chain Solutions at DHL and Director of the DHL-SMU Green Transformation Lab. "Infrastructure has its limits; there are only so many more roads that can be built. Beyond that, information has to come in to help individuals and companies deal with the challenges of logistics and e-commerce. This is where information systems can really make a contribution," said Professor Lau.
Taking sustainability seriously
Demonstrating that it is never too early to start thinking about sustainability, SMU has not only made environmental and sustainability causes central to its curriculum, but also encouraged its students to take a hands-on approach.
In recognition of students involved in sustainability projects that have resulted in a positive impact on the environment and community, the SMU-DHL Green Transformation Lab Sustainability Award 2014 was presented to Mr Victor Lee Hong Zhi for his continuous engagement in environmental and sustainability causes and the development of a software solution for water, food and energy wastage reduction. Ms Low Huai Pin received the Merit award on behalf of Project Luminare 3, an SMU student group that brought lights to underprivileged communities in the Philippines.
Far from being just a trendy buzzword, sustainability is a critical issue that the University and many other companies are taking seriously, said Professor Steven Miller, SMU's Vice Provost (Research) and Dean of School of Information Systems.
"What's at stake is really important. There has never been a time in history where our individual actions could cause such widespread damage. Symposiums like these go a long way in helping us understand where the gaps are and what can be done to make e-commerce more sustainable," Professor Miller concluded. 
Office of Research, Singapore Management University