Pioneer MSc in Management graduating cohort establishes first Class Gift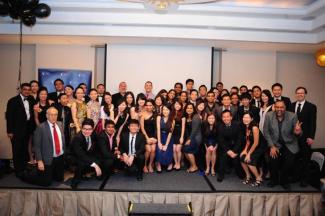 · The Gift will fund scholarships and study awards.
· It would also be used for alumni outreach programmes.
· Four representatives were appointed to maintain ties among the graduates as well as with the SMU Community.
After a year of broad and rigorous management education focusing on sustainable supply chain and logistics management, 40 students from the inaugural cohort of SMU Master of Science in Management (MM) programme celebrated their graduation over dinner on 26 November 2014.
Focused on Asia with a special emphasis on Singapore as a logistics, supply chain and service management hub, the SMU MM programme is specially designed for non-business degree holders by providing them with a sound knowledge of the fundamentals of management across a range of practical disciplines and allowing them to transition smoothly into the world of business. The programme is delivered by SMU faculty members and industry practitioners.
Among the graduates were 27 international students who hail from places such as China, Hong Kong, India, Indonesia, Malaysia, Nepal and USA. Joining them in the celebration were Lee Kong Chian School of Business' Associate Dean of General Management Programmes & Associate Professor of Corporate Communication, Gregor Halff, Academic Director & Professor of Strategic Management, Stephen Harney, Programme Manager Aparna Rajesh, faculty members, and staff from Office of Postgraduate Professional Programmes and the Office of Alumni Relations.
Amid warm camaraderie and celebratory toasts, the alumni did not forget the SMU ethos of contributing back to society. The class came together to set up a Class Gift – a first for students from a postgraduate programme. The Gift will fund scholarships and study awards for needy students from future generations of the MM programme. It would also be used for alumni outreach programmes. Future class gifts or individual gifts from the MM programme will go towards this fund.
Mr Nicholas Yeo Teck Boon, a member of the pioneer batch of MM graduates said, "It was a great experience to learn, work and interact with so many bright and capable students from different parts of the world. The MM programme is rigorous, dynamic and practical. It successfully bridges the gap between theory and practice through case studies which provide valuable insights about business challenges faced by companies operating in Asia.
"The Class Gift is a very special effort by the Class of MM 2014. It was extremely heart-warming to find the class shares the excitement in giving back to the school. I experienced first-hand the unity and selflessness of the class during this Class Gift effort which made me very proud to be associated with this cohort," he added.
[Photo: (R-L) Master of Science in Management Academic Director Prof Stephen Harney and Ms Berlinda Gooi, Head of Alumni Relations, with the four appointed alumni reps: Ms Shang Shaoxi from China, Mr Abhishek Kanoria from India, Mr Nicholas Yeo Teck Boon from Singapore, and Mr Stefano Krisanto Tanuharja from Indonesia.]
Another highlight of the dinner was the appointment of four representatives from the class to maintain ties among the graduates as well as with the SMU Community. Plans are also afoot to establish an official MM alumni group with the aim to build up the MM alumni community.
On the MM alumni community, Nicholas Yeo, who is the Class President and also one of the four appointed representatives added, "The community can only grow bigger and stronger. Being in the programme myself, I see the potential and effectiveness of the programme to groom future leaders in the business world. My personal aim is to connect not only my batch of classmates but also the subsequent batches, to help and assist them as seniors, as alumnus." 
The MM programme will welcome its second intake of 40 students in January 2015, with another intake commencing classes in September 2015.
To find out more about the MM alumni community, please visit: http://blog.smu.edu.sg/postgraduate/mm/
[Featured photo: First cohort of 40 students from the SMU Master of Science in Management celebrating their graduation by setting up a Class Gift – a first for students from a postgraduate programme.]